Announcement
Winners of Photo Nightscape Award 2014 Announced
16 October 2014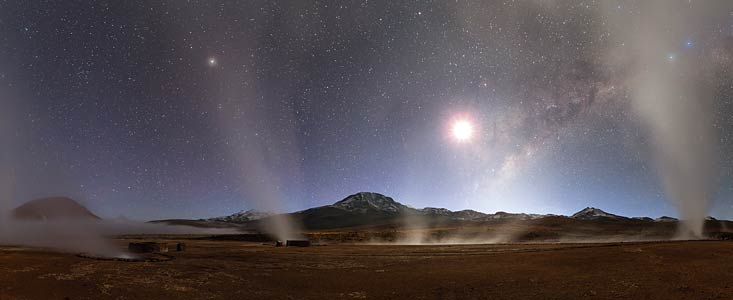 The winners of the Photo Nightscape Award (PNA) 2014 — which was organised by Ciel et Espace Photos — have been announced. Over 100 contestants from 23 different countries participated in the contest, out of which six winners were chosen. Prizes were awarded to the first and second place in two different categories: Pro for professional photographers and Espoir for youngsters in the field. Furthermore, two junior photographers were honoured for their outstanding work.
The first prize in the Pro category went to Jean Marc Lecleire from France for his spectacular landscape showing geysers and the Milky Way. His reward is a one-week trip to the Paranal Observatory, home of the Very Large Telescope, in Chile. This prize was offered by ESO, which is a supporting partner of the PNA. Similarly impressive is the picture of the northern lights over a river landscape by Tommy Eliassen from Norway, who won the second prize in this category.
In the Espoir category, the Iranian M. Taha Ghouchkanlu won first prize for his picture of Baobabs under the Milky Way. Runner up was the French photographer Pascal Colas with his piece capturing the celestial pole over a cityscape. Jeremy Gachon and Justin Galant, both from France, won first place in their respective age groups for their pieces Tourond Starry Sky and The Life Tree.
The awards will be presented on 9 November 2014 at Les rencontres du Ciel et de l'Espace (RCE) — a three-day conference for amateur and professional astronomers at the Cité des Sciences et de l'Industrie in Paris, France.
Because of the quality of the pictures and the growing popularity of the Photo Nightscape Award, a travelling photo exhibition will be established. After its premiere at the RCE it will be on display at the Photography Festival of Montier en Der in France. After that, the exhibition will travel to several French planetariums and astronomy festivals. In October 2015 the exhibition may be presented at the ESO Headquarters in Germany during the annual Open House Day.
Links
Contacts
Franck Seguin
Photo Nightscape Awards
Paris, France
Tel: +33 1 45 89 89 08
Email: pna@cieletespace.fr
Richard Hook
ESO, Public Information Officer
Garching bei München, Germany
Tel: +49 89 3200 6655
Cell: +49 151 1537 3591
Email: rhook@eso.org