Announcement
ESO observatories to reopen for public visits
20 May 2022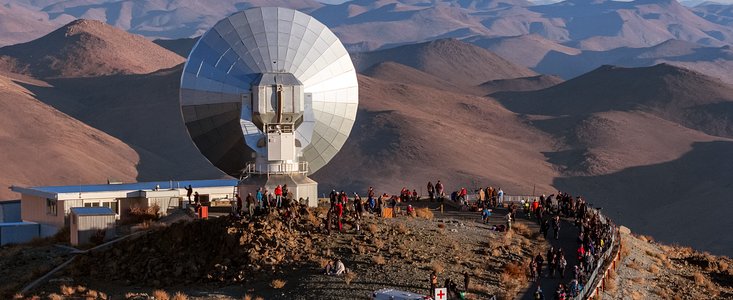 ESO's observatory sites in Chile are once again opening their doors to the public, after two years of pandemic-related closures. From 28 May, visitors will be able to take free tours of the sites in Paranal and La Silla.
"We hope to once again amaze people with ESO's impressive telescopes, immersed in the most incredible landscapes of the Atacama Desert,'' says Luis Chavarría, ESO Representative in Chile. "The reopening of our sites to the public marks a small but significant step for ESO." 
Tours of the ESO sites provide a unique opportunity for anybody to experience what it is like at the forefront of astronomy research. Visitors can explore inside the ESO telescopes, learn about their technology, and even witness where astronomers and engineers find a much-needed oasis in the desert. 
Public tours will run every Saturday at 10:00 and 14:00 in Spanish and English. Each tour will be limited to a capacity of 40 people at both Paranal and La Silla. As time progresses, ESO will adapt to changes in COVID-19 local guidelines, with the aim of offering more spaces on the tours. 
Visitors will have to register in advance, for which there are online forms for La Silla and Paranal. Visitors should fill a COVID-19 health declaration form 24 to 48 hours prior to the visit. In addition, they must comply with the new COVID-19 protocol and guidelines, including wearing masks (disposable surgical masks, N95, KN95) for the duration of the visit and showing the Chilean Mobility Pass or proof of a negative PCR test. 
"We are very much looking forward to slowly but safely opening our observatories to the public for the first time in two years" says Laura Ventura, ESO's Head of Communication in Chile.
Links
Contacts
Francisco Rodríguez
ESO Chile Press Officer
Santiago, Chile
Tel: +56 2 24633151
Email: francisco.rodriguez@eso.org