Announcement
Incoming President of Chile Michelle Bachelet Meets Senior ESO Representatives
12 March 2014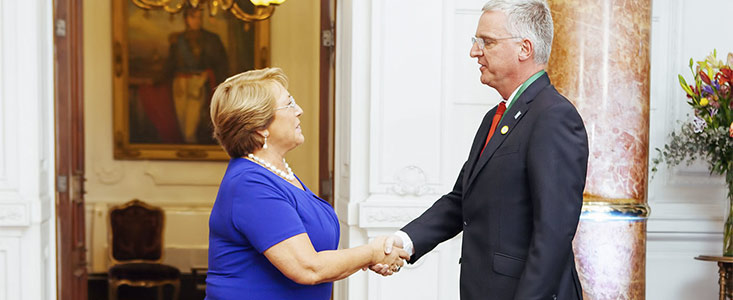 The ESO Director General, Tim de Zeeuw, together with ESO Council President Xavier Barcons, ESO Representative in Chile Fernando Comerón, and Director of Operations Andreas Kaufer met Michelle Bachelet, the incoming President of Chile, on 10 March 2014, the day before her inauguration. The delegation passed on their congratulations, and looked forward to a fruitful and productive collaboration between ESO and its host nation.
This meeting took place at the Academia Diplomática de Chile (Diplomatic Academy of Chile) where Michelle Bachelet also held meetings with several high level organisations and delegations from all over the world who had been invited to the ceremonies marking the handover of power in Chile.   
Later in the afternoon, Fernando Comerón and Tim de Zeeuw attended an official reception with the outgoing President of Chile, Sebastián Piñera, at the Palacio de La Moneda in Santiago, where they had the opportunity of personally thanking him for the continued support of the Government of Chile to ESO during his mandate.

On 11 March Tim de Zeeuw, Xavier Barcons and Fernando Comerón attended the inauguration ceremony at the Palace of Congress in Valparaíso, where they had the opportunity of meeting many high representatives of other delegations and Chilean authorities. Among these Ms. Isabel Allende, the newly appointed President of the Chilean Senate, warmly expressed her strong personal interest in a visit to Paranal Observatory in the near future.

In the course of the reception for members of the diplomatic corps in Chile on the evening of 11 March, President Bachelet reiterated to Fernando Comerón the strong desire of her government to maintain the spirit of collaboration that has characterised the relationship between ESO and Chile, and her intention to visit Paranal in the course of her current term.
Links
Contacts
Francisco Rodriguez I.
ESO, Santiago, Chile
Tel: +56 2 24633019
Email: frrodrig@eso.org
Richard Hook
ESO Public Information Officer
Garching bei München, Germany
Tel: +49 89 3200 6655
Cell: +49 151 1537 3591
Email: rhook@eso.org