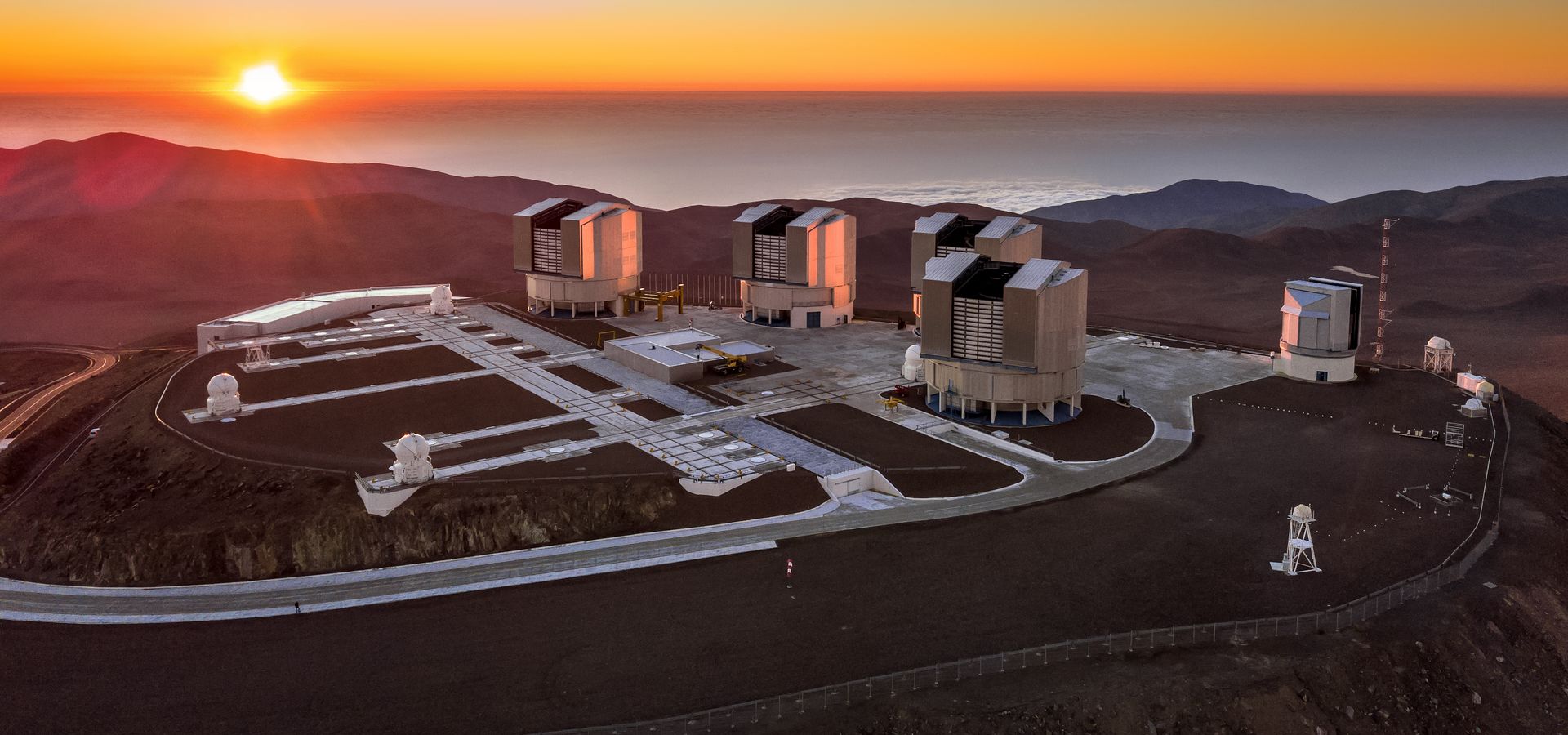 Paranal and La Silla Observatories at your fingertips
16 July 2021
Public visits to the Paranal and La Silla Observatories, home to ESO's telescopes, have been a key component of ESO's outreach efforts for many years. Since the COVID-19 pandemic made these visits impossible, in 2020 ESO started offering virtual online tours that mimic as closely as possible the in-person experience. In this blog post we will tell you some behind the scenes stories about how these virtual tours came to be, and what we have planned for upcoming tours.
Located in the Chilean Atacama desert, ESO's Paranal and La Silla Observatories are unique attractions for astronomy enthusiasts. ESO has offered free guided tours every weekend since 1996 (La Silla) and 1998 (Paranal), where the public gets to see our telescopes first hand and learn how astronomers, engineers and other staff live and work under the harsh conditions of the Atacama desert.
In March 2020, when the COVID-19 pandemic arrived in Chile, its impact was felt in nearly all areas of society — including ESO's activities. Public visits were suspended and science activities at the observatories were reduced and eventually paused. By the end of 2020 the situation in Chile had improved and observations slowly ramped up, but with minimum staffing and under strict safety measures. As of July 2021, public visits remain temporarily suspended.
But this didn't stop us: if people couldn't come to our observatories, we would bring the observatories to them! In June 2020 we embarked on an ambitious project to offer virtual tours streamed online, in English and Spanish, where the audience could explore our facilities and ask questions live to our guides. But how did we do it?
Challenging beginnings
We faced many challenges along the way, as we had never tried something similar before. First, we had to research and test various tools that would allow us to stream simultaneously to Facebook and YouTube and interact with our audience.
Secondly, ESO has a massive archive of free-to-use images and videos, including 360º ones that our guides can control interactively. But most of this media content had been originally created for press releases and announcements, so we had to repurpose it for our guided tours, connecting the dots between various images and videos to deliver a coherent and fulfilling experience.
Finally, we had to train our team of 10 guides in just a few weeks, so that they would be ready to deliver the virtual tours as soon as possible. Not an easy task!
Almost like being there
You can think of the virtual guided tours as a drone flight: you can't touch the ground, but you can go to almost every corner of ESO's observatories thanks to our immersive 360º images and videos. Our guides will take you inside the dome of one of the 8.2-metre telescopes comprising the Very Large Telescope (VLT) at Paranal, or the New Technology Telescope at La Silla. You will also see the control room from where the telescopes are operated, and the famous Paranal residencia, among other facilities. During the tours, which last 60 minutes, you can ask questions via Facebook and YouTube, and our guides will answer them live.
---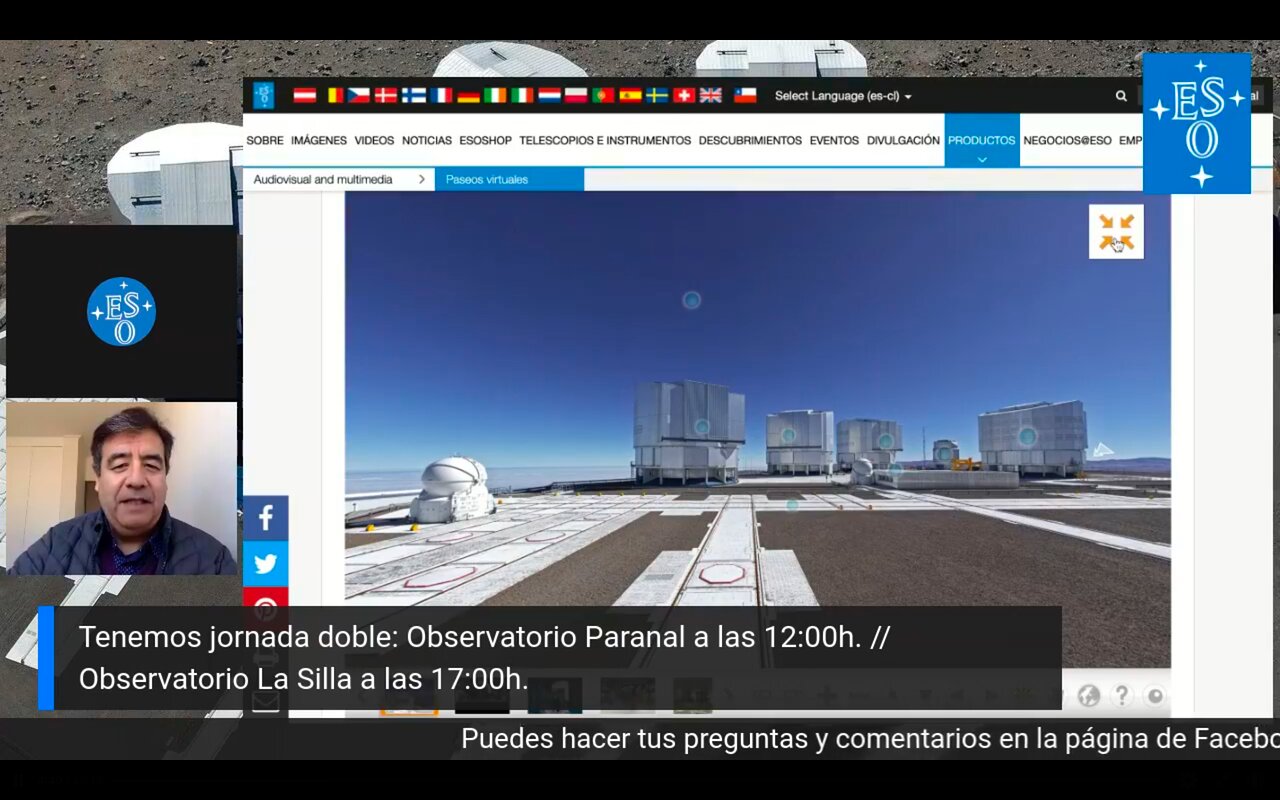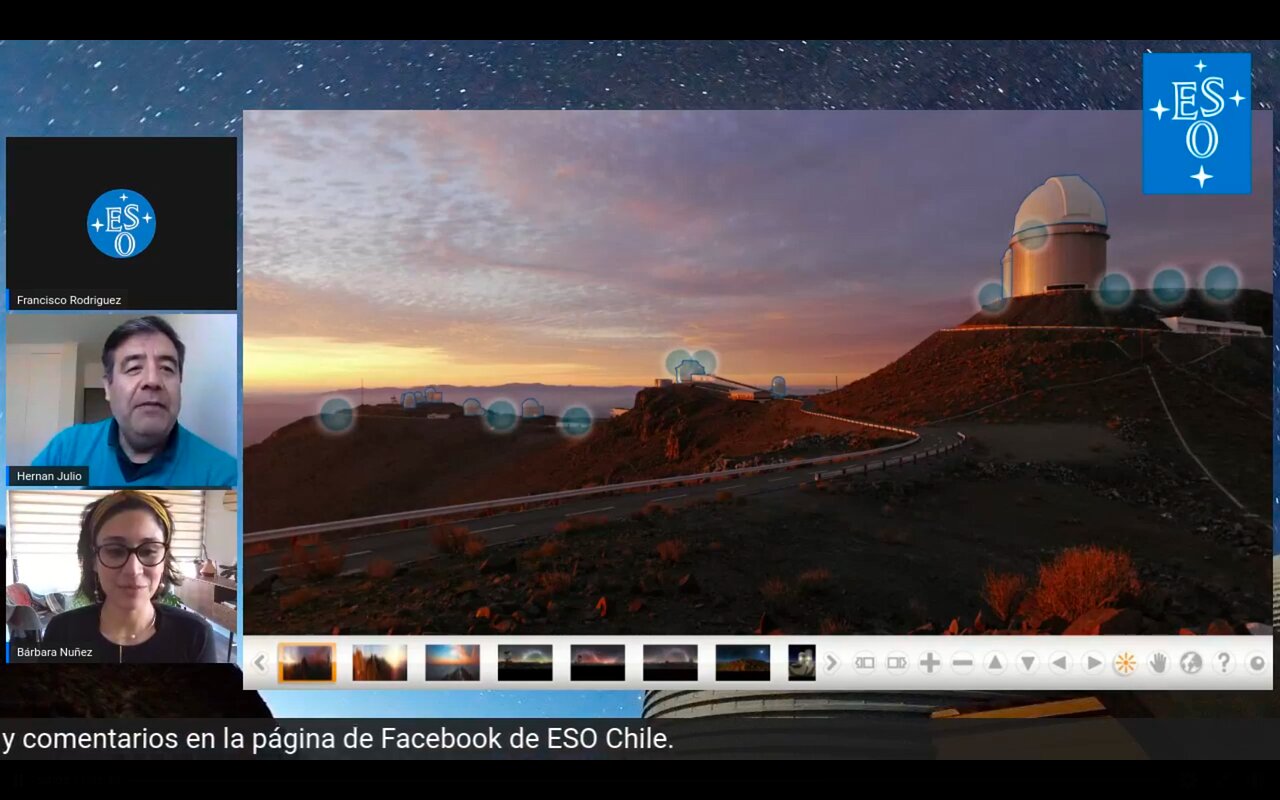 Virtual tours of Paranal (left) and La Silla (right). The blue circles mark the areas with interactive content that participants visit during the tours.
Credit: ESO
---
An exclusive feature of our new online format is that you can visit areas that are restricted during in-person tours, such as the VLT Interferometer lab. Here the light of several telescopes is combined to achieve the resolution of a massive mirror as large as the separation between the individual telescopes. This is a very complex system where multiple optical elements need to be aligned with exquisite accuracy, so visitors aren't allowed during in-person tours, but you will get to see this in the virtual ones.
Another advantage of the virtual tours is that we sometimes feature special guests such as astronomers or engineers who tell us about their research or how it's like to work on-site, and who can answer some of the more specific questions from the public.
For us, the interaction with the public is the highlight of these tours. We receive dozens of questions in every tour, and we particularly like it when participants interact with each other; some have already visited our observatories before the pandemic and they often answer questions from those attending these tours for the first time.
Moving forward
In 2020 we offered 72 virtual tours in English and Spanish, with an audience of 6800 live viewers and thousands of reproductions of the tour videos afterwards. This has allowed us to reach people worldwide who otherwise may not have been able to visit the observatories in person. It was a collaborative effort between ESO and our external guides, and the result was definitely worth it.
After a hiatus of a few months the tours are back with new content, including flyby videos around the observatories, images of deep sky objects, and explanations of the top discoveries done with ESO telescopes.
The tours were so popular that we received lots of requests from schools to organise educational visits for them. We are currently working on these virtual educational visits, and soon schools in Chile will be able to request these tours. Stay tuned!
We hope to reinstate the in-person tours as soon as the COVID-19 situation allows us to do this safely. In the meantime, we invite you to join our new tours of Paranal and La Silla every Saturday, either via our YouTube channel or our Facebook pages in English and Spanish.
Biography Francisco Rodríguez
Francisco Rodríguez is the ESO Press Officer in Chile since 2012. He has an MA in International Journalism from Cardiff University (UK). Previously, he worked in different Chilean Media Outlets such as La Tercera Newspaper, Endemol and Qué Pasa Magazine.