Announcement
The Science Train Visits the Antofagasta Region
An interactive educational experience supported by ESO brings the excitement of science to northern Chile.
26 October 2010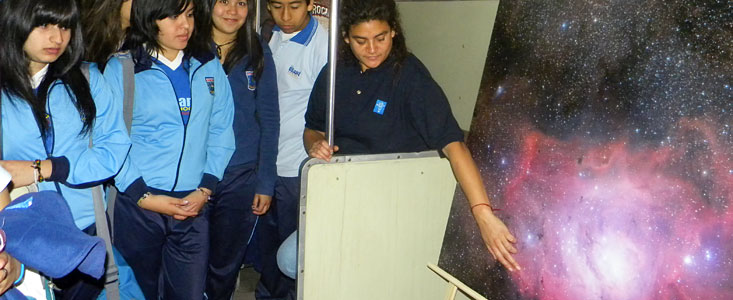 A mobile science exhibition called the Science Train will travel around the Antofagasta Region of Chile from 25 October to 6 November 2010, bringing the wonders of science to the local residents. Each of the six carriages of the Science Train is dedicated to a different topic: The Universe, The Earth is Alive, The Origins of Life, Mankind and Desert, Technological Development and The Future of Communications.
The carriages promise to give a fascinating overview of each scientific topic in a rather unconventional environment for an exhibition. The Mankind and Desert carriage will introduce a cultural element to this travelling exhibition, as it explores the importance of the desert for the ancient cultures that settled in the Atacama.
The train will make its first scheduled stop in Antofagasta on Monday, 25 October, before departing for stations in Mejillones, Baquedano, Sierra Gorda, Calama and Ollagüe.
The Science Train is a project to commemorate the Chilean Bicentenary, organised by the EXPLORA/CONICYT programme and the Antofagasta Railway, supported by the Regional Government. The Astronomy Outreach Centre Paranal Universidad Católica de Norte developed The Universe carriage; it includes models of ESO's Very Large Telescope (VLT) at Cerro Paranal and the European Extremely Large Telescope (E-ELT), which will be the largest optical/near-infrared telescope in the world, planned for construction in the Antofagasta Region, near the VLT.
Links
The schedule for the Science Train is as follows:
25 October, Antofagasta, 9:00 to 13:00 and 15:00 to 19:00
26 October, Antofagasta, 9:00 to 13:00
27 October, Mejillones, 14:30 to 19:00
28 October, Mejillones, 9:00 to 13:00
29 October, Baquedano, 9:00 to 13:00
30 October, Sierra Gorda, 9:00 to 13:00
2–4 November, Calama, 9:00 to 13:00 and 15:00 to 19:00
6 November, Ollagüe, 10:00 to 14:00
Contacts
Valentina Rodríguez
Press Officer
ESO Chile
Tel: +56 2 463 3123
E-mail: vrodrigu@eso.org
Caroline Monypenny
Community Relations Officer
Antofagasta Railway (FCAB)
Antofagasta, Chile
Tel: +56 55 206210
Email: cmonypenny@fcab.cl