Announcement
Media Advisory: First Light Event for VLT's Four New Lasers
VLT to get brightest laser guide stars of any telescope
21 March 2016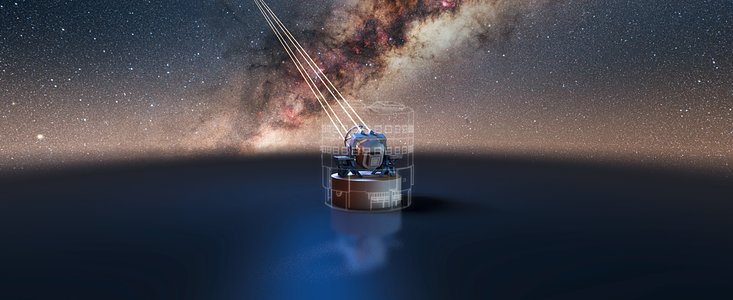 On 26 April 2016 an event will be held at the Paranal Observatory in Chile to mark the first light of a new laser unit on ESO's Very Large Telescope. Members of the press are invited to attend the event (at their own cost), and those who wish to do so are asked complete this RSVP form. The event will include an optional visit to Cerro Armazones, the future home of the European Extremely Large Telescope.
Known as the Four Laser Guide Stars Facility (4LGSF), the new system will use four lasers to create artificial guide stars anywhere in the sky, permitting the adaptive optics systems to compensate for the blurring caused by the Earth's atmosphere.
ESO and industry partners have together built the brightest laser guide stars used on any telescope. They will extend the VLT's ability to produce some of the sharpest images of celestial objects available from a ground-based telescope. We expect to see a spectacular display of this cutting-edge technology against the night sky at Cerro Paranal.
ESO's Representative in Chile, Fernando Comerón, will be present, along with senior representatives from the Chilean Government authorities and the companies that have manufactured the various elements of the 4LGSF: MPBC of Canada, Toptica of Germany and TNO of the Netherlands.
The first of the four lasers began operations in May 2015.
ESO has also shared this technology with other observatories.
Links
Previous press releases and announcements about the Laser Guide Stars
Contacts
Richard Hook
ESO Public Information Officer
Garching bei München, Germany
Tel: +49 89 3200 6655
Cell: +49 151 1537 3591
Email: rhook@eso.org