A rosette for the VLT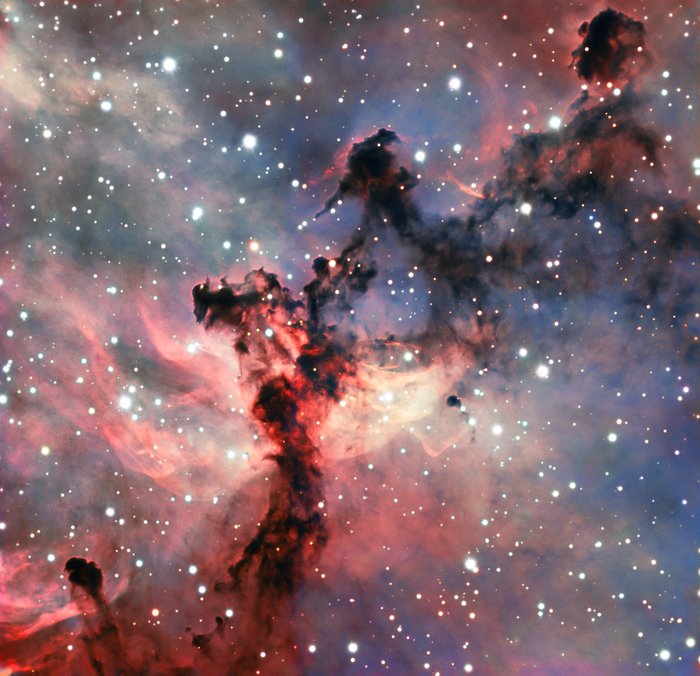 This colourful image shows a part of the Rosette Nebula in the constellation of Monoceros (The Unicorn). It is an emission nebula, composed of clouds of gas that are made to glow by the radiation emanating from stars within. The Rosette Nebula is a fairly typical example of an emission nebula — but typical does not mean boring! Nebulae are some of the most beautiful celestial objects out there, and they frequently show up spectacularly in images taken by astronomical telescopes, as seen here.
In nebulae such as this, gas and dust are combining to produce a new generation of stars. Initially these newly-formed stars are shrouded in the dusty clouds that gave them birth, and cannot be seen in visible light. But after a while they blow away the denser material and their powerful radiation pours out to ionise the surrounding gas, causing it to glow brightly. These elements are all present in this image — the mixture of glowing gas and dark dust has been sculpted into complex patterns on the sky by the stellar radiation, like smoke around a fire.
This particular image was obtained with the FORS 2 instrument on ESO's Very Large Telescope, sited in the harsh environment of Chile's Atacama Desert. FORS 2 is an extremely versatile instrument that can produce very high-quality images (like this one!). It is also a spectrograph that can split the light it collects into a rainbow of colours, giving astronomers information about the chemical composition of objects across the Universe.
This image was created as part of the ESO Cosmic Gems programme, an outreach initiative to produce images of interesting, intriguing or visually attractive objects using ESO telescopes, for the purposes of education and public outreach. The programme makes use of telescope time that cannot be used for science observations. All data collected may also be suitable for scientific purposes, and are made available to astronomers through ESO's science archive.
Credit:
About the Image
| | |
| --- | --- |
| Id: | potw1847a |
| Type: | Observation |
| Release date: | 19 November 2018, 06:00 |
| Size: | 1770 x 1710 px |
---
About the Object
| | |
| --- | --- |
| Name: | Rosette Nebula |
| Type: | Milky Way : Nebula : Appearance : Emission |
| Constellation: | Monoceros |
| Category: | Nebulae |
---
Image Formats
Fullsize Original
Large JPEG
1.1 MB
Screensize JPEG
280.6 KB
---
Zoomable
---
Wallpapers
---
Coordinates
| | |
| --- | --- |
| Position (RA): | 6 30 42.80 |
| Position (Dec): | 5&deg 0' 22.40" |
| Field of view: | 7.44 x 7.19 arcminutes |
| Orientation: | North is 90.0° right of vertical |