Announcement
ESO employees engaged in "Solidarity Mission" in Chile
9 March 2010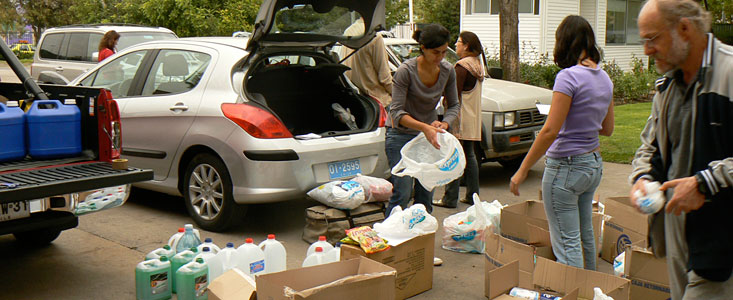 Supported by the ESO Chile Solidarity Group, a "solidarity mission" involving ESO and Gemini South Observatory employees has been actively and successfully helping the people in Pelluhue area, on the coast of the Maule region in Chile. The region was one of the most affected by the magnitude 8.8 earthquake that struck the country on 27 February 2010.

On 2 March 2010, three vehicles loaded with food, medicine, clothes, hygiene and essential items departed from the ESO offices in Vitacura, Santiago. The goods were distributed to victims of the earthquake both on the Maule coast and in nearby rural areas. The group not only distributed supplies, but also built a temporary rainproof shelter for an elderly couple living in the rural area of Salto de Pelluhue, whose house was devastated by the earthquake. The group came back after a week of traveling and helping on 8 March 2010.

In the next days, further actions related to specific help in the area of reconstruction will be defined and implemented by the ESO Chile Solidarity Group based on the recommendations of the solidarity mission.
Links
Contacts
Philippe Gitton
ESO Solidarity Group
Email: Philippe.Gitton@eso.org

Raquel Yumi Shida
ESO ePOD
Garching, Germany
Tel: +49 89 3200 6177
Email: rshida@eso.org