Dutch Involvement with the European Southern Observatory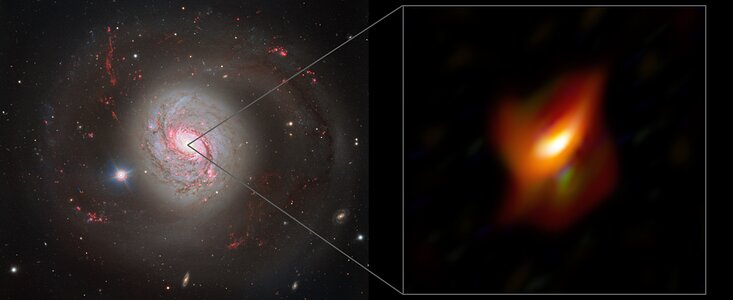 The active galaxy Messier 77 with a thick ring hiding a supermassive black hole. (Credit: ESO/Jaffe, Gámez-Rosas et al.)
The Netherlands is one of the five founding members of ESO who took part in signing the ESO convention on 5 October 1962. It officially became a Member State on 17 January 1964. As a founding member, the Dutch community of scientists and engineers has contributed to ESO projects in many key ways, from participating in scientific discoveries to contributing to the development of instruments and telescopes. 
The Netherlands contributes 5.01% of ESO's revenue (2021 contribution), worth 9 621 000 EUR. 
As of mid 2022, there are 14 Dutch nationals employed at ESO, 11 in Germany and three in Chile. Furthermore, ESO has awarded 12 studentships and seven fellowships to Dutch nationals since 2004. 
The Netherlands is represented in the various ESO governing and advisory bodies by astronomers and policy experts; the current Dutch representatives of ESO's various committees with national representation can be found here. 
The ESO Science Outreach Network (ESON) includes Dutch representatives who act as ESO's media and outreach local contacts. 
Here follows some information about Dutch involvement with ESO. 
Discoveries by astronomers based in The Netherlands using ESO telescopes 
Dutch researchers and those based at Dutch institutions have been involved in important discoveries using ESO facilities. These include 
Dutch involvement in ESO instruments and telescopes at ESO sites 
The Netherlands has contributed to many aspects of ESO, including the technology behind instruments, ESO telescopes and telescopes based at ESO sites. These include 
Dutch involvement in ELT instruments 
The development of METIS, the Mid-infrared ELT Imager and Spectrograph, on ESO's upcoming Extremely Large Telescope (ELT), is led by NOVA in the Netherlands. The powerful spectrograph will allow studies of a wide range of astrophysical phenomena, from exoplanet atmospheres to distant and active galaxies.
Dutch industry and technology contributions to ESO 
The Netherlands has contributed to many aspects of ESO, with many contracts awarded to the Dutch industry, including to 
TNO, the Netherlands Organisation for applied scientific research, which developed and built the optical tube assemblies for the Four Laser Guide Star Facility (4LSGF) on the VLT, key for getting crystal clear observations.  
Coherent Europe B.V., which was awarded a contract for VLT laser maintenance 
Dutch industry contributions to the ELT 
The contract to design and produce the qualification models for the segment support and related auxiliary equipment for the ELT primary mirror (M1) have been contracted to the Dutch VDL Groep. The same company is also in charge of the design, production and testing of the mirror segment supports for M1. 
TNO was awarded contracts for the ELT laser beam projection units and the M1 prototype segments subunits.