Swiss Involvement with the European Southern Observatory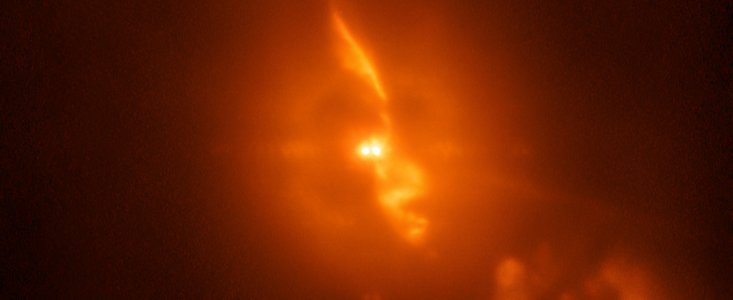 The stellar binary R Aquarii in a turbulent dance. (Credit: ESO/Schmid et al.)
Switzerland joined ESO as a Member State on 1 March 1982. As a country that's been with ESO for many years, its community of scientists and engineers has contributed to ESO projects in many key ways, from participating in discoveries to playing important roles in developing instruments, many related to the world's foremost planet hunters.  
Switzerland currently contributes 4.23% of ESO's revenue (2021 contribution), worth 8 123 000 EUR. 
As of mid 2022, there are four Swiss nationals employed at ESO, three in Germany and one in Chile. Furthermore, ESO has awarded four studentships and four fellowships to Swiss nationals since 2004. 
Switzerland is represented in the various ESO governing and advisory bodies by astronomers and policy experts; the current Swiss representatives of ESO's various committees with national representation can be found here. 
The ESO Science Outreach Network (ESON) includes Swiss representatives who act as ESO's media and outreach local contacts. 
Here follows some information about Switzerland's involvement with ESO. 
Discoveries by Switzerland-based astronomers using ESO telescopes 
Swiss researchers and those based at Swiss institutions have been involved in important discoveries using ESO facilities and telescopes hosted at ESO's observatories. These include 
Swiss involvement in ESO instruments and telescopes at ESO sites 
Switzerland has contributed to many aspects of ESO, including the technology behind instruments, ESO telescopes and telescopes based at ESO sites. These include 
Swiss involvement in ELT instruments 
The MOSAIC instrument at ESO's upcoming Extremely Large Telescope (ELT) will peer closer at distant galaxies at the very edge of the observable Universe. MOSAIC is being developed by a consortium in which Observatoire de Genève participates.  
The ELT instrument METIS, named after the Greek goddess of wisdom, will be able to study a wide range of astronomical objects, from the Solar system to distant Galaxies. METIS is a collaboration between several astronomy institutes in Europe, including ETH Zürich that leads the science development of the instrument.  
ANDES, the instrument that will study astronomical objects with unprecedented sensitivity, will also be a first-generation ELT instrument. Université de Genève and Universität Bern participate in the consortium that develops ANDES.  
ETH Zürich is also a key partner in a design study for a future ELT instrument, called EPICS or ELT-PCS, capable of directly imaging exoplanets.  
Swiss industry and technology contributions to ESO 
Switzerland has contributed to many aspects of ESO, with many contracts awarded to Swiss industry, including 
The Swiss company Data Conversion Service S.A., which has been awarded several ESO contracts for general IT support and services. 
The company TURBOMACH S.A., which provided a dual fuel power generator for Paranal before the observatory switched to renewable energy. 
Schott Suisse S.A., which conducted optical treatment to parts of the MATISSE instrument on ESO's VLT Interferometer.