Belgian Involvement with the European Southern Observatory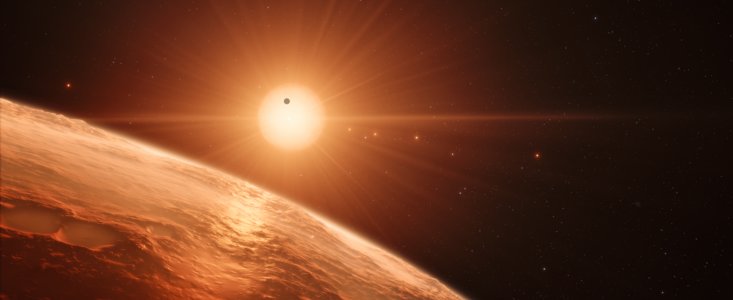 DArtist's impression of the TRAPPIST-1 planetary system (Credit: ESO/N. Bartmann/spaceengine.org)
Belgium is one of the five founding members of ESO and took part in signing the ESO convention on 5 October 1962. It officially became a Member State on 2 October 1967. As a founder, Belgium has taken part in multiple ESO projects over the years with astronomers, engineers and industry in the country benefiting in a multitude of ways.  
Belgium currently contributes 2.98% of ESO's revenue (2021 contribution), worth 5 722 000 EUR. 
As of mid 2022, there are 13 Belgian nationals employed at ESO, eight in Germany and five in Chile. Furthermore, ESO has awarded seven studentships, six fellowships and two internships to Belgian nationals since 2004.  
Belgium is represented in the various ESO governing and advisory bodies by astronomers and policy experts; the current Belgian representatives of ESO's various committees with national representation can be found here.  
The ESO Science Outreach Network (ESON) includes Belgian representatives who act as ESO's media and outreach local contacts. 
Here follows some information about Belgium's involvement with ESO. 
Discoveries by Belgium-based astronomers using ESO telescopes 
Belgian researchers and those based at Belgian institutions make extensive use of ESO facilities. ESO press releases that have involved astronomers at Belgian institutes include 
An international team led by Belgium-based astronomers that debunked the claimed "closest black hole" to Earth, showing in a 2022 study led by Abigail Frost (KU Leuven) that it was instead a "vampire" two-star system in a rare and short-lived stage of its evolution. 
In late 2019, the red supergiant star Betelgeuse went through what is now known as the Great Dimming, where it suddenly dropped in brightness. A team led by Miguel Montargès (then at KU Leuven) observed the star in February 2020 with the SPHERE instrument at ESO's Very Large Telescope (VLT) and found a large section of the surface to be dimmed. Later, Montargès (then at LESIA, Observatoire de Paris) and Emily Cannon (KU Leuven) led a study published in 2021 that solved the mystery of the Great Dimming: Betelgeuse was partially concealed by a cloud of dust. 
A Belgian team of astronomers from the STAR Institute, University of Liège (Jean Manfroid, Damien Hutsemékers & Emmanuel Jehin) that used data from the VLT to show that iron and nickel exist in the atmospheres of comets throughout the whole Solar System, even those far from the Sun. This study, published in 2021, marked the first time that heavy metals, usually associated with hot environments, were found in the cold atmospheres of distant comets. 
Michaël Gillon, Université de Liège, led a team that discovered the TRAPPIST-1 system. The cool red dwarf star, TRAPPIST-1, is located 40 light-years away from Earth and has seven Earth-sized planets orbiting it, as described in a 2017 study. Three of the planets are lying in the habitable zone. Gillon and his team initially discovered three of these planets in 2016. 
Belgian involvement in ESO instruments and telescopes at ESO sites 
Belgium has contributed to many aspects of ESO, including the technology behind instruments, ESO telescopes and telescopes based at ESO sites. These include  
Belgian involvement in ELT instruments 
In addition, two Belgian institutions (KU Leuven and University of Liège) are part of the consortium designing and building the METIS instrument for ESO's upcoming Extremely Large Telescope.   
Belgian industry and technology contributions to ESO 
Belgium has contributed to many aspects of ESO, with many contracts awarded to Belgian industry. For example, the four VLT Auxiliary Telescopes mentioned above were built by the Belgian company AMOS S.A. 
Belgian industry contributions to the ELT 
The main ELT related contracts already awarded to Belgian institutions include 
AMOS S.A.: the company made important contributions to several design studies of the ELT and is also in charge of polishing the M4 reference body 
AGC Glass Europe SA: for the design and supply of the ELT mirror coating plants