Announcement
ESO Director General meets the President of Chile
7 July 2010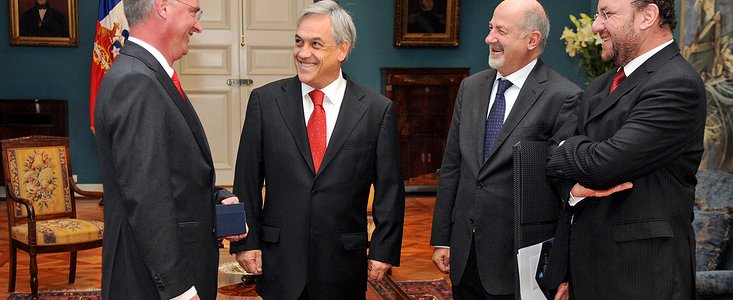 On 6 July 2010 the Chilean President Sebastián Piñera received the ESO Director General, Tim de Zeeuw, at the Palacio La Moneda, in Santiago, to discuss the selection of Cerro Armazones in Chile, as the home of the future 42-m European Extremely Large Telescope (E-ELT). The Chilean Minister of Foreign Affairs, Alfredo Moreno, Ambassador Gabriel Rodríguez from the Ministry of Foreign Affairs and the ESO Representative in Chile, Massimo Tarenghi, also attended.
On the previous day, the Minister of National Assets, Catalina Parot, invited the ESO Director General for a lunch to discuss the implementation of the offer made by the Chilean Government to transfer to ESO a substantial tract of land contiguous to ESO's Paranal property, containing Armazones, in order to ensure the continued protection of the site against all adverse influences, in particular light pollution and mining activities.
Cerro Armazones is an isolated mountain at 3060 metres altitude in the central part of Chile's Atacama Desert, some 130 kilometres south of the town of Antofagasta and about 20 kilometres from Cerro Paranal, home of ESO's Very Large Telescope. Cerro Armazones and Paranal share the same ideal conditions for astronomical observations, with over 320 clear nights per year.
With the start of operations planned for 2018, the E-ELT will address many of the most pressing unsolved questions in astronomy. It may, eventually, revolutionise our perception of the Universe, much as Galileo's telescope did, 400 years ago.
Since 1966, ESO has built in Chile a series of world-class observing facilities, establishing a fruitful and long-term collaboration with its host nation. Currently, ESO operates telescopes at three sites in the Atacama Desert region of Chile: La Silla, Paranal and Chajnantor.
More information about the E-ELT is available in the E-ELT web pages, the E-ELT Press Kit and the E-ELT FAQ.
Contacts
Massimo Tarenghi
ESO Representative in Chile
Santiago, Chile
Tel: +56 2 463 3143
Email: mtarengh@eso.org
Henri Boffin
ESO La Silla-Paranal/E-ELT Press Officer
Phone: +49 89 3200 6222
Cell: +49 174 515 43 24
E-mail: hboffin@eso.org