Announcement
New Territories for Science Outreach
2011 Communicating Astronomy With the Public Conference, Beijing, China
11 May 2011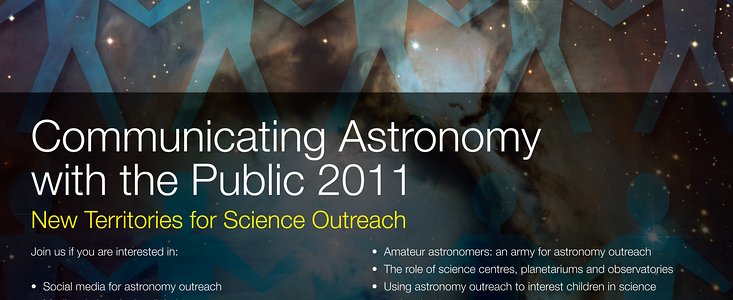 Public information officers, educators, science communicators, journalists, bloggers and professional and amateur astronomers are invited to attend or give talks at the 2011 Communicating Astronomy with the Public (CAP2011) conference, to take place between 10 and 14 October 2011 at the Xiyuan Hotel in Beijing, China.

With online platforms boosting popularity and traffic, there is a whole new world building up in the social media and elsewhere online, a world where individuals become opinion leaders by owning and sharing information. For this new audience, traditional ways of communicating science are no longer enough. If science wants to keep up, it needs to learn how to communicate through the social media and online as well as continuing to come up with innovative and unconventional approaches in the offline world.

CAP2011 will focus directly on how to bring science to the people of today and tomorrow. The major themes of the conference will be:
Social media for astronomy outreach
Media relations in the digital age
Audiovisual and multimedia communication including tools and techniques
The challenges of the digital era
Alternative ways of communicating astronomy with the public
Crowdsourcing/citizen science projects
Amateur astronomers: an army for astronomy outreach
The role of science centres, planetariums and observatories
Using astronomy outreach to interest children in science and technology
Communicating across national, language, political, social and cultural borders
Astronomy communication in the developing world
Evaluating outreach projects
The social impact of astronomy communication
The legacy of the International Year of Astronomy (IYA2009)
The deadline for submitting an abstract is 15 July, and the registration deadline is 1 September. For details about fees, programme, accommodation, transport and other practical information please visit the conference website.
More Information
CAP2011 is part of a series of conferences organised by the International Astronomical Union (IAU) Division XII, Commission 55 — Communicating Astronomy With the Public, which was established at the IAU General Assembly in Prague August 2006.
Links
Contacts
Oana Sandu
Community Coordinator
ESO ePOD, Garching, Germany
Phone: +49 89 320 069 65
Mobile: +49 176 943 942 20
E-mail: osandu@eso.org
Twitter: http://twitter.com/ESO