Announcement
Czech Republic Commits to the E-ELT
3 June 2011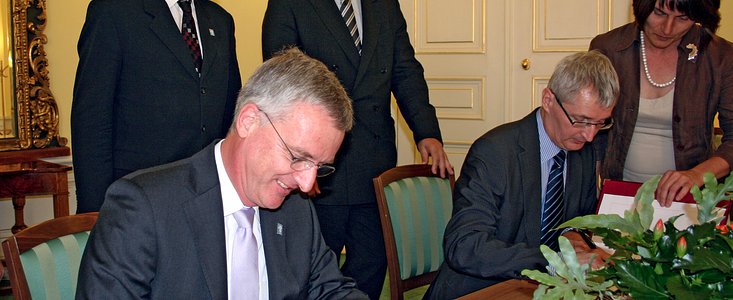 On 3 June 2011 in Prague, an agreement was signed committing the Czech Republic to provide its full share of the additional financial contribution required for construction of the European Extremely Large Telescope (E-ELT). The agreement was signed by the Director of the Department of International Cooperation in Research and Development of the Ministry of Education, Youth and Sports of the Czech Republic, Dr Jan Marek — authorised by the Minister of Education, Youth and Sports, Josef Dobeš — and the ESO Director General, Prof. Tim de Zeeuw. The contribution will be made in two equal instalments, in 2012 and 2014, subject to approval of E-ELT construction by the ESO Council, which is currently planned to occur in December of this year. This agreement will help ESO keep its leadership in the field of ground-based astronomy.
"This agreement is an important step on the road to building the E-ELT, which will be the largest optical/near-infrared telescope in the world — the world's biggest eye on the sky," said Prof. de Zeeuw.
With a 40-metre class mirror, the E-ELT will gather 15 times more light than the largest optical telescopes today. The telescope will be constructed on Cerro Armazones, a 3060-metre peak in the central part of Chile's Atacama Desert, some 130 kilometres south of the town of Antofagasta and about 20 kilometres from Cerro Paranal, home of ESO's Very Large Telescope. The start of operations of the E-ELT is planned for early in the next decade.
Links
Contacts
Lars Lindberg Christensen
Head of ESO education and Public Outreach
ESO, Garching, Germany
Tel: +49 89 3200 6761
Cellular: +49-173-3872-621
E-mail: lars@eso.org