Announcement
ESO Annual Report 2010 now available
15 June 2011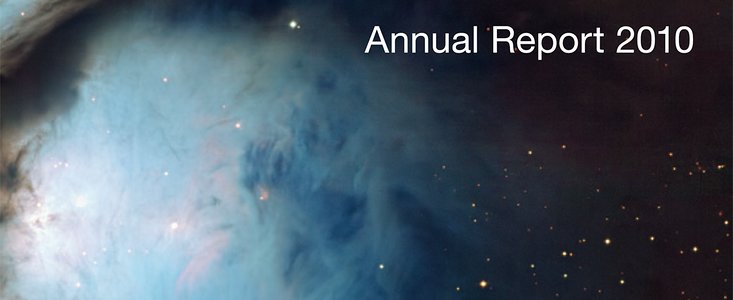 The ESO Annual Report 2010 is now available. It presents the many activities of the European Southern Observatory throughout the last year, covering topics including:
ESO's research highlights, with the latest results from the fields of exoplanet detection, the study of massive stars, and the history of star formation.
An overview of the activities of ESO's telescopes.
A description of the status of the astronomical instruments at the La Silla and Paranal observatories, detailing new installations and upgrades.
The progress of the exciting ALMA and E-ELT projects.
Links
Download the ESO Annual Report 2010 here.
Contacts
Robert Fosbury
International Relations Office
Tel: +49 89 3200 6235
E-mail: rfosbury@eso.org
Lars Lindberg Christensen
Head of ESO ePOD
ESO ePOD, Garching, Germany
Tel: +49 89 3200 6761
Cellular: +49-173-3872-621
E-mail: lars@eso.org