Announcement
Don't Miss Out on What's New at ESO!
ESO launches a suite of newsletters
26 August 2011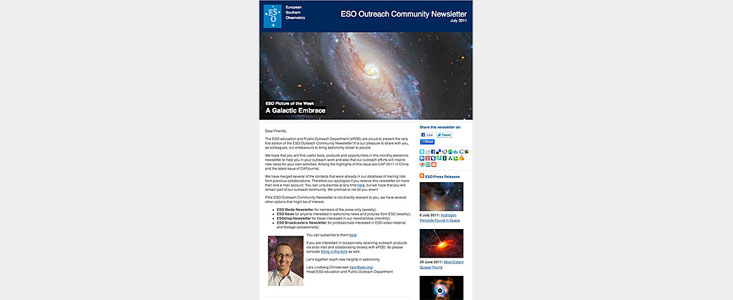 The European Southern Observatory's education and Public Outreach Department (ePOD) has launched a series of newsletters to stay in touch with anyone who is interested in news from the organisation — from laypeople to media. The newsletters gather all the latest news, products and opportunities into one place in a visually pleasing format, combining text, images and links that can be accessed easily and shared on social media platforms.

Anyone who subscribes to the esonews mailing list will start receiving the ESO News newsletter roughly once a week, when press releases are released. Those who haven't yet subscribed, but wish to be informed about the latest discoveries coming from ESO, are invited to provide an e-mail address here.

The ESO Outreach Community Newsletter is addressed to informal educators such as science centres, museums, planetariums and public observatories, as well as to teachers, science communicators, public information officers and professional and amateur astronomers interested in outreach. Distributed monthly via e-mail, the ESO Outreach Community Newsletter will highlight new outreach products, competitions, ESO events, outreach opportunities for collaborating with ESO in the form of events, exhibitions or campaigns and much more. Those who wish to subscribe to the ESO Outreach Community Newsletter should provide their e-mail address here.

The ESOshop Newsletter is a monthly electronic newsletter distributed to ESO's online shop customers; subscribers will be informed about the new products available and special offers. Educators are entitled to free orders if they wish to use ESO products for outreach events. There are also bulk discounts that ESO offers to informal educators. Last, but not least, promotional campaigns will bring discounts to all subscribers. To receive the ESOshop Newsletter please go here.

The ESO Media Newsletter will replace the weekly plain-text e-mails sent to media representatives. Journalists who wish to have access to information in advance of public release should fill in the following form. Please note that ePOD reserves the right to check on the correctness of the information and grant access only to those who provide accurate information. As for TV and movie producers, broadcasters and TV researchers, they can subscribe to the ESO Media Newsletter as well to receive the latest videos and footage from ESO, available for use in documentaries, movies, video news etc. 
Links
Contacts
Oana Sandu
Community Coordinator
ESO ePOD, Garching, Germany
Phone: +49 89 320 069 65
Mobile: +49 176 943 942 20
E-mail: osandu@eso.org
Twitter: http://twitter.com/ESO