Announcement
Café & Kosmos 21 December 2011
Plasma crystal research on the International Space Station
16 December 2011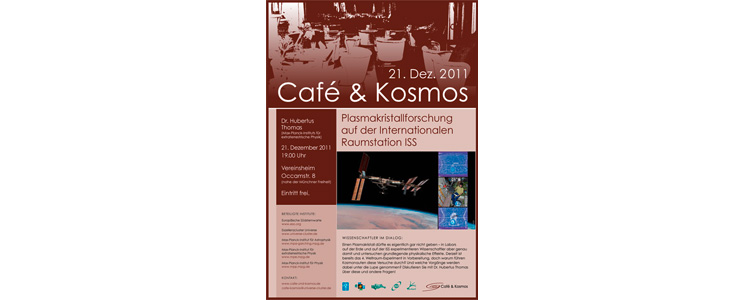 with Dr Hubertus Thomas, Max-Planck Institute for Extraterrestrial Physics
On 21 December 2011 Café & Kosmos goes to the International Space Station! There, scientists perform many different experiments, including those on plasma crystal research, about which Dr. Hubertus Thomas (MPE) will speak this evening, bringing the Café & Kosmos visitors and the ISS closer.
A plasma is an ionised gas, which is, after the solid, liquid and gaseous states, a fourth state of matter. Therefore, a plasma crystal is in itself an impossible state of matter! Crystallisation in a plasma is only possible with the addition of "dust". But then the scientists can distinguish separate particles, ie individual "atoms", and dynamically monitor processes such as melting, or investigate directly the motion of lattice defects.
Since the particles are about one thousandth of a millimetre in size, gravity plays a major role in the generation of plasma crystals. In the laboratory, only small and almost two-dimensional crystals can be examined. Larger systems occur only under conditions of weightlessness — and that's why, for these experiments, scientists have been outsourced into space! Plasma crystal experiments have now taken place on the ISS for the past ten years.
Please note that the Café & Kosmos events take place in German.
What: Plasma crystal research on the International Space Station
When: Tuesday, 21 December 2011, 19:00 until approximately 20:30
Where: Vereinsheim, Occamstr. 8, 80802 München, near Münchener Freiheit
Admission is free. 
Links
Contacts
Olivier Hainaut
ESO
Karl Schwarzschildstr. 2
85748 Garching bei München
Tel: +49 89 3200 6752
Email: ohainaut@eso.org
Barbara Wankerl
Excellence Cluster Universe
Boltzmannstr. 2
85748 Garching bei München
Tel: +49 89 35831 7105
Email: barbara.wankerl@universe-cluster.de