ann13007 — Announcement
Café & Kosmos 5 February 2013
What is time?
31 January 2013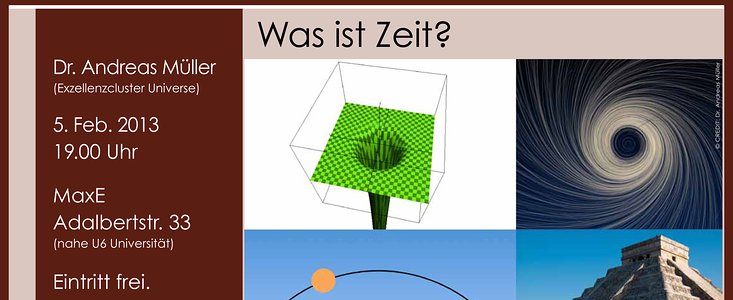 with Dr. Andreas Müller (Universe Cluster)
Time paces our life. We plan our schedules and our whole lives using it. In contrast to space, time has only one direction. It is constantly progressing, and we can not move back in time to undo mistakes from our past. However, according to Einstein's theory of relativity, time is not as unalterable as we experience it. Worse: when studying time, we have to consider what the whole Universe is doing, and under some conditions, time might even vanish.
At next Café & Kosmos on 5 February 2013, Dr. Andreas Müller (Excellence Cluster Universe), author of the book Space and Time will discuss the mysteries of time with the audience.
Exceptionally, Café & Kosmos will take place on the first Tuesday of the month (instead of the second) on 5 February. Also, please note of the new venue: Café & Kosmos will take place at MaxE, Adalbertstr. 33.
Please note that the Café & Kosmos events take place in German.
What: What is time?
When: Tuesday, 5 February 2013, 19:00 until approximately 20:30
Where: MaxE, Adalbertstr. 33, Munich (next to the U6 station Universität) — note the new venue
Admission is free.
Links
Contacts
Olivier Hainaut
ESO
Karl Schwarzschildstr. 2
85748 Garching bei München
Tel: +49 89 3200 6752
Email: ohainaut@eso.org
Dr. Hannelore Hämmerle
MPI für extraterrestrische Physik
MPI für Astrophysik
Giessenbachstraβe
85748 Garching
Tel: +49 (89) 30 000 3980
Email: hannelore.haemmerle@mpe.mpg.de