Announcement
E-ELT Talk in Portugal to be Webcast Live
DrJ to speak at Centro de Astrofísica da Universidade do Porto
9 October 2013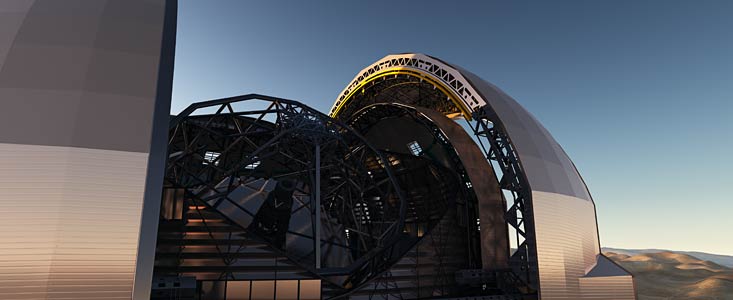 ESO astronomer Joe Liske (a.k.a. Dr J, star of the Hubblecast and ESOcast video podcasts) will be visiting the Centro de Astrofísica da Universidade do Porto (CAUP) in Portugal on 15 October, to give a talk on the European Extremely Large Telescope (E-ELT).
The talk will also be webcast live, so those unable to attend can still catch up on the latest news from the project. There will be facilities for live web chat on the website which will allow audience members at home to participate in the Q&A.
During the talk, Dr J will provide a preview of the largest optical telescope ever, and will discuss the science and technology of this megaproject.
What is dark energy? Are we alone in the Universe? What did the first galaxies look like? These are some of the most fundamental questions of our time, and it is hoped that the E-ELT will help to answer them as it peers deeper into the cosmos than any other telescope ever built.
Joining Dr J at the end of the talk, for a Q&A session, will be Carlos Martins (CAUP, E-ELT Project Science Team), Jason Spyromilio (ESO, E-ELT Programme Scientist) and Suzanne Ramsay (ESO, E-ELT Instrument Scientist).
After the Q&A session the participants will have the opportunity to move out into the inner garden at the Planetarium of Porto where telescopes will be set up, to allow for some visual observing (weather permitting).
The talk is scheduled to start at 22:15 CEST/21:15 WEST on Tuesday 15 October at the CAUP/Planetário do Porto/auditorium.
Contacts
Richard Hook
ESO, Public Information Officer
Garching bei München
Germany
Tel: +49 89 3200 6655
Cell: +49 151 1537 3591
Email: rhook@eso.org
Ricardo Cardoso Reis
CAUP, Núcleo de Divulgação
Porto
Portugal
Tel: +351 22 608 98 36
Email: ricardo.reis@astro.up.pt