Announcement
Media Advisory: Invitation to Attend E-ELT Mountain Blasting Event
4 April 2014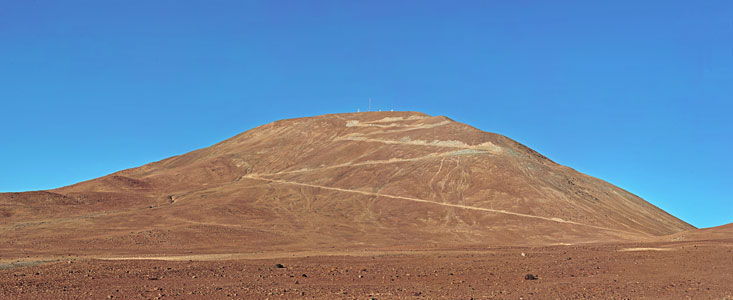 During the week of 16 June 2014 there will be a major media event at ESO's Paranal Observatory in northern Chile to mark the blasting of the top of Cerro Armazones, the 3000-metre peak that will be the home of the European Extremely Large Telescope.
The ceremony will be attended by VIPs from both Chile and the ESO Member States as well as representatives of the local communities, senior officials from the project and ESO staff. It will be a significant milestone in the construction of the largest optical/infrared telescope in the world.
Members of the media are invited to attend in person to both witness the ceremony and to visit ESO's Paranal Observatory at its spectacular site in the Atacama Desert. Please express your interest by filling out the ESO media visit form, noting that you wish to attend the E-ELT mountain blasting event under "Objective of the Visit."
Please note that final arrangements are still in progress and that further details will be made available as soon as possible here.
For members of the media who cannot be present at the blasting event, ESO will host an online press meeting. A separate media advisory for this will be issued in the weeks leading up to the event.
The start of telescope operations is planned for early in the next decade, when the E-ELT will begin to tackle the biggest astronomical challenges of our time. The giant telescope will allow the exploration of completely unknown realms of the Universe — it will be: "the world's biggest eye on the sky".
Links
Contacts
Richard Hook
Public Information Officer, European Southern Observatory

Garching bei München, Germany

Tel: +49 89 3200 6655
Email: rhook@eso.org