Announcement
Earthquake in Chile: No Casualties or Damage at ESO Sites
ESO expresses sympathy and support for victims
17 September 2015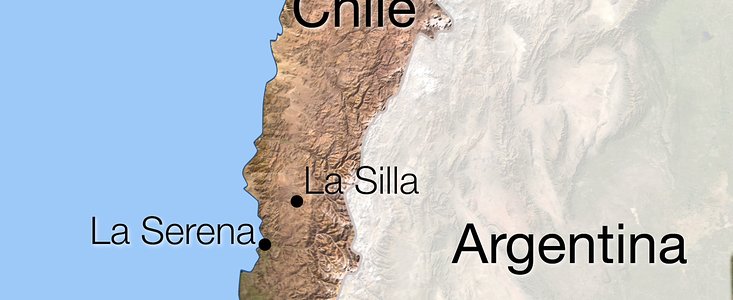 A magnitude 8.3 earthquake struck central Chile at about 20:00 local time on Wednesday 16 September 2015 (01:00 CEST on 17 September) between Santiago and La Serena, followed by several aftershocks. According to government reports, eight people have died and one million people have been evacuated in response to tsunami warnings.
ESO expresses its deepest condolences to the families of the victims, and its sympathy and support for all those affected by the earthquake.
The epicentre was distant from both the ALMA/APEX site on the Chajnantor Plateau and the Paranal site but the quakes were felt quite strongly in Santiago and at the La Silla Observatory, which were the ESO sites closest to the earthquake. However, no casualties among ESO staff have been reported and no major problems have been reported from La Silla, where telescope checks are ongoing.
ESO is currently investigating whether any staff or visiting astronomers may have been travelling in the regions affected, though there have been no reports of such cases so far.
Links
Contacts
Richard Hook
ESO Public Information Officer
Garching bei München, Germany
Tel: +49 89 3200 6655
Cell: +49 151 1537 3591
Email: rhook@eso.org