Announcement
Space Scoop Launches Comic Contest
20 May 2016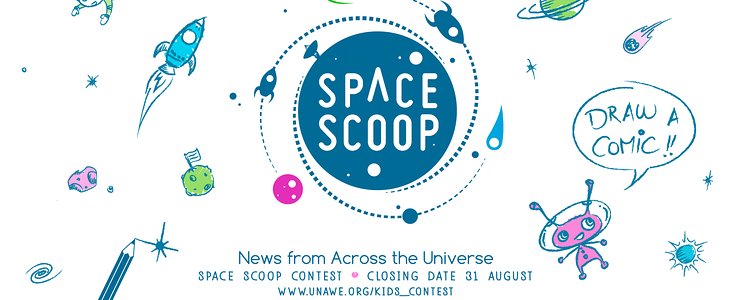 Ten years ago the Universe Awareness project was launched. To celebrate this anniversary, and the launch of the new Space Scoop website, a global contest has been launched inviting the readers of Space Scoop to create their own Space Scoop comic. Space Scoop provides a comic template — all you have to do is to select a released text and let your creativity flow!
Artwork using traditional media such as watercolour, pencils, mosaic or chalk is welcome, as is work created using digital software like Paint, GIMP or Adobe Illustrator. Three winners will be selected in each participating country, one for each age category (8-11 years, 12-15 years, and 16-18 years). Each winner will receive a cosmic goody bag and a certificate. In addition, the winning artwork will be displayed on the international Universe Awareness website.
The winning entries from all countries will then be evaluated by an international panel of judges to choose one overall winner who will receive a KANO computer. Three runners up will each take home a Galileoscope.
Entries are welcome in a number of languages from participants aged between 8 and 18 years; to find out if your language is represented visit the contest webpage. The contest starts on 20 May 2016, and closes on 31 August 2016. Entries will be judged on originality, interpretation of the subject matter, creative techniques, composition, and overall art appearance. Names of the winners will be announced on 30 September 2016. Participants must fill in a contact form, which should be signed and verified by a teacher, parent or guardian. Entries may be submitted on paper or electronically and should be sent to the appropriate National Contest Organiser. Electronic entries will be accepted in the following formats: jpg, png, pdf. The file size must not exceed 1MB.
For more information regarding the rules and requirements for this competition, visit the UNAWE kids contest page.
More information
Universe Awareness (UNAWE) uses exciting aspects of astronomy to inspire children aged 4 to 10, particularly those from disadvantaged backgrounds, and raise their interest in science and technology. UNAWE also uses the perspective and vastness of the Universe to foster tolerance for different cultures and develop a sense of world citizenship. The components of UNAWE are teacher training, production of outstanding educational materials and an interdisciplinary network. UNAWE is coordinated by Leiden University in the Netherlands
Space Awareness is an international project which aims to use the excitement of space exploration in order to raise students' interest in science and technology as well as space related careers and stimulate their sense of global citizenship. To achieve that, the project is offering a wide range of tools and activities to inspire children, teenagers, and teachers to be involved in space related activities. Among others, our project will offer activities which will include professional development tools, educational resources, Space Scoops, citizen science and games, as well as space careers stories. Space Awareness is coordinated by Leiden University in the Netherlands.
Space Scoop is funded by the European Community's Seventh Framework Programme under grant agreement n° 263325, the Horizon 2020 Programme under grant agreement n° 6386523, the European Southern Observatory (ESO) and the National Astronomical Observatory of Japan (NAOJ).
The European Southern Observatory (ESO) was among the first astronomy institutions to join up with Space Scoop and have its press releases translated into "kids language".
Links
Contacts
Sarah Roberts
Science Editor Space Scoop
Tel:
+44 2920 875 121
Email: robertss38@cardiff.ac.uk