Announcement
Solar plant to supply energy to ESO's Extremely Large Telescope
5 November 2019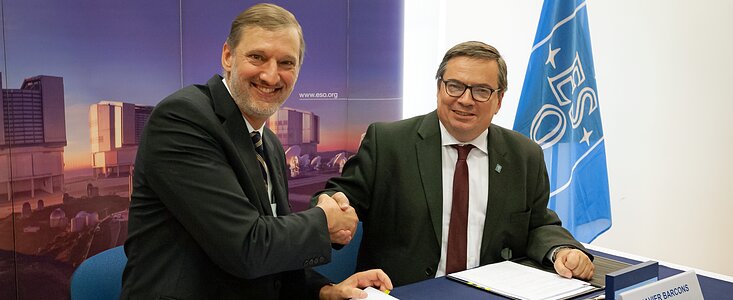 ESO is taking important steps to make its revolutionary new ground-based telescope greener. Next year, a power conditioning system and a photovoltaic plant will be installed at the site of ESO's Extremely Large Telescope (ELT) with operations of both systems starting 2 years later.
One of the biggest challenges in the construction of ESO's ELT in Cerro Armazones, Antofagasta, Chile, is to ensure access to a clean and highly reliable electrical supply. 
Since the telescope is located close to areas that receive some of the highest amounts of solar radiation in the world, this goal can be achieved by installing and operating a power conditioning system to the grid supply and a photovoltaic plant, independent from the grid generator.
Today, ESO signed a contract with the company SAESA to install and operate both facilities. The electrical power conditioning system will provide highly reliable electricity, will have full backup capacity, and one standby unit for redundancy or maintenance. The photovoltaic plant will use renewable energy to supply electricity to the telescope during the day. 
The photovoltaic plant will also serve as a backup energy plant to the region of Antofagasta as it will be able to supply energy to the local community via the grid in case of a widespread power outage. 
The photovoltaic plant is part of ESO's organisational efforts to reduce its carbon footprint. For the ELT, the saved energy will be significant, since the world's largest telescope will consume most energy during the day, to stabilise the temperature of the telescope and of its optics located inside the dome. 
Contacts
Barbara Núñez
ESO Press Officer Chile
Santiago, Chile
Tel: +56 (2) 2463 3019
Email: Barbara.Nunez@eso.org 
Mariya Lyubenova
ESO Head of Media Relations
Garching bei München, Germany
Tel: +49 89 3200 6188
Email: mlyubeno@eso.org