Announcement
ESO-Chile Funding Opportunities 2021 Open
Deadline for proposals: August 6, 2021.
14 June 2021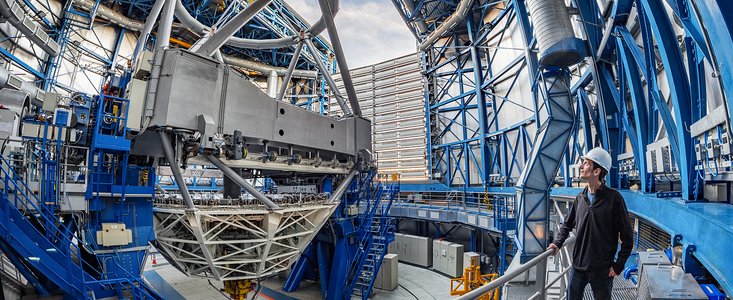 The Joint Committee of ESO and the Government of Chile has opened its funding opportunities for 2021. It will consider all proposals that contribute to the development of astronomy in Chile and will allocate funding of approximately 450 million Chilean pesos in 2021.

The criteria for the allocation of funding will take into account the merit of the projects, the strategic priorities determined by the Committee, the match between the requested amount and the scope of the projects, and the applicants' records.

The programmes to be supported by this fund belong to the following areas:
Funding of postdoctoral programmes and extended scientific visits for a duration of one to three months for postdocs, researchers or senior faculty of academic institutions.
Academic faculty positions for periods of up to two years at Chilean academic institutions.
Development and presentation of educational programmes for the teaching and dissemination of astronomy in Chile.
Development programmes and the construction of technological systems for astronomy.
Development of astronomy in areas not covered by the above four categories.
ESO provides and manages this annual fund as part of the programme of scientific cooperation with its host country Chile. Representatives from both ESO and the Chilean Government sit on the Joint committee board. Chile is represented through the Energy, Science and Technology & Innovation Division (DECYTI) of the Ministry of Foreign Affairs, the Chilean National Agency for Research and Development (ANID), as well as the Chilean Astronomical Society (SOCHIAS).

Proposals must be submitted at an institutional level by Friday 6 August 2021 at 23:59, and must be written in English or Spanish, using the following form (in Spanish only).

A number of mitigating measures have been implemented by the Joint Committee due to the COVID-19 pandemic and its possible impact on projects. For more information, please see the "Anuncio de oportunidades 2021" document (in Spanish).

For further information on this announcement, please contact Gautier Mathys, Scientific Advisor of the ESO Representative Office in Chile.
Links
Contacts
Gautier Mathys
Scientific Cooperation Officer
Alonso de Córdova 3107, Vitacura
Santiago, Chile
Email: gmathys@eso.org
María Adriana Arrau
Executive Assistant -Office of the ESO Representative in Chile
Alonso de Córdova 3107, Vitacura
Santiago, Chile
Email: marrau@eso.org