Wide-field image centred on the exoplanet HIP 13044 b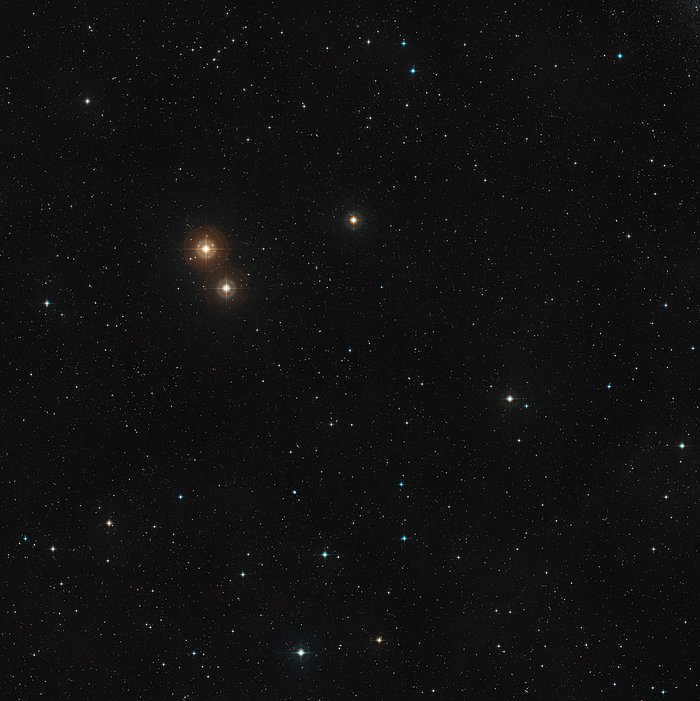 This visible light wide-field image of the region around the exoplanet HIP 13044 b was created from photographs forming part of the Digitized Sky Survey 2. The field of view is approximately three degrees across.
HIP 13044 is visible as an unremarkable, moderate brightness star at the exact centre of the picture. The planet HIP 13044 b is much too faint to be seen in this image. The cross shapes and halos around brighter stars are artifacts and are not real.
Credit:
ESO and Digitized Sky Survey 2. Acknowledgment: Davide De Martin
About the Image
| | |
| --- | --- |
| Id: | eso1045c |
| Type: | Observation |
| Release date: | 18 November 2010, 20:00 |
| Related releases: | eso1045 |
| Size: | 10693 x 10714 px |
---
About the Object
| | |
| --- | --- |
| Name: | HIP 13044 b |
| Type: | Solar System : Star : Circumstellar Material : Planetary System |
| Distance: | 2000 light years |
| Constellation: | Fornax |
| Category: | Stars |
---
Image Formats
---
Zoomable
---
Wallpapers
---
Coordinates
| | |
| --- | --- |
| Position (RA): | 2 47 37.50 |
| Position (Dec): | -36&deg 6' 26.81" |
| Field of view: | 179.48 x 179.84 arcminutes |
| Orientation: | North is 0.4° right of vertical |