Disc around the star HD 135344B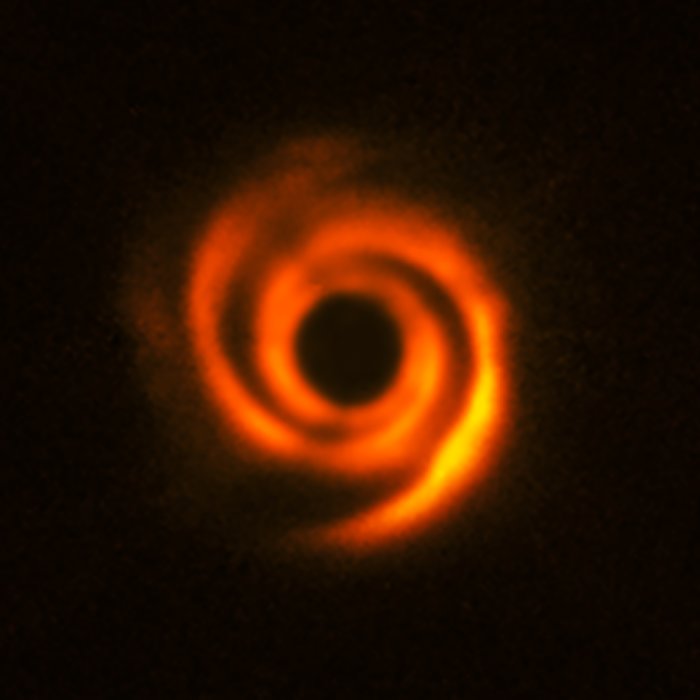 Using ESO's SPHERE instrument at the Very Large Telescope, a team of astronomers observed the planetary disc surrounding the star HD 135344B, about 450 light-years away. The disc shows prominent spiral-arm-like structures. These are thought to have been created by one or multiple massive protoplanets, destined to become Jupiter-like worlds.
The central part of the image appears dark because SPHERE blocks out the light from the brilliant central star to reveal the much fainter structures surrounding it.
Credit:
About the Image
| | |
| --- | --- |
| Id: | eso1640d |
| Type: | Observation |
| Release date: | 9 November 2016, 12:00 |
| Related releases: | eso1640 |
| Size: | 1020 x 1020 px |
---
About the Object
Name:
HD135344B
Type:
Milky Way : Star : Circumstellar Material : Disk : Protoplanetary
Constellation:
Lupus
Category:
Exoplanets
Stars

---
Image Formats
Fullsize Original
Large JPEG
112.8 KB
Screensize JPEG
86.3 KB
---
Zoomable
---
Wallpapers
---
Coordinates
| | |
| --- | --- |
| Position (RA): | 15 15 48.44 |
| Position (Dec): | -37&deg 9' 16.02" |
| Field of view: | 0.02 x 0.02 arcminutes |
| Orientation: | North is -0.0° left of vertical |