The NGC 4254 galaxy as seen with MUSE on ESO's VLT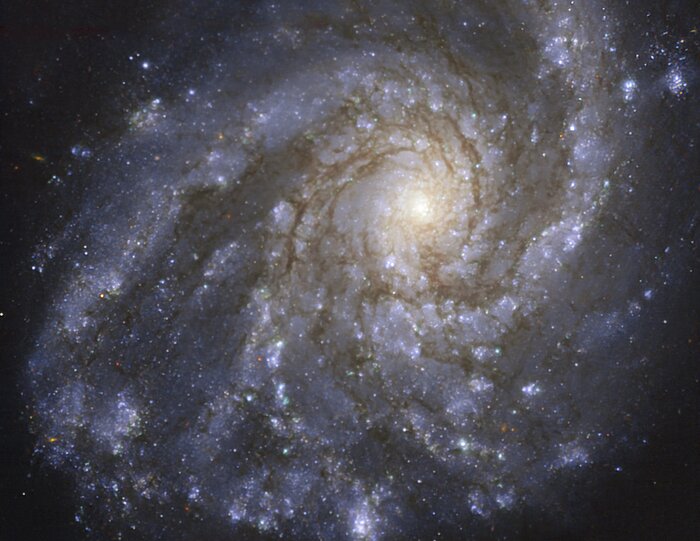 This image of the nearby galaxy NGC 4254, taken with the Multi-Unit Spectroscopic Explorer (MUSE) on ESO's Very Large Telescope (VLT), combines green, red and infrared filters to reveal the distribution of stars. 
NGC 4254 is a grand-design spiral galaxy located approximately 45 million light-years from Earth in the constellation Coma Berenices. 
The images were taken as part of the Physics at High Angular resolution in Nearby GalaxieS (PHANGS) project, which is making high-resolution observations of nearby galaxies with telescopes operating across the electromagnetic spectrum.
Credit:
About the Image
| | |
| --- | --- |
| Id: | ngc4254-muse-cc |
| Type: | Observation |
| Release date: | 16 July 2021, 14:00 |
| Size: | 1169 x 903 px |
---
About the Object
| | |
| --- | --- |
| Name: | NGC 4254 |
| Type: | Local Universe : Galaxy : Type : Spiral |
| Constellation: | Coma Berenices |
| Category: | Galaxies |
---
Image Formats
Fullsize Original
Large JPEG
292.7 KB
Screensize JPEG
188.0 KB
---
Zoomable
---
Wallpapers
---
Coordinates
| | |
| --- | --- |
| Position (RA): | 12 18 51.03 |
| Position (Dec): | 14&deg 25' 23.09" |
| Field of view: | 3.90 x 3.01 arcminutes |
| Orientation: | North is 90.0° left of vertical |