Building the E-ELT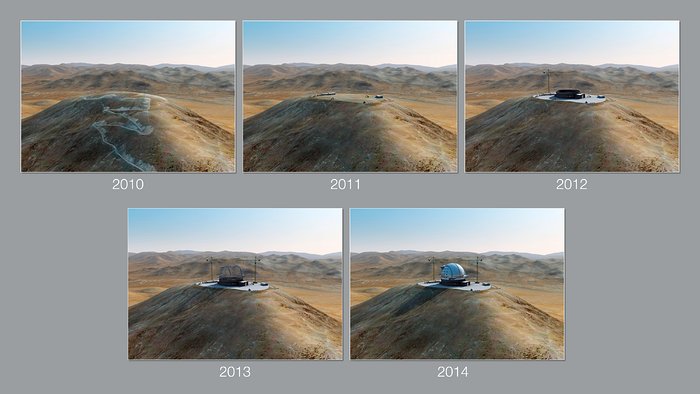 This series of artist's impressions shows some of the main phases in the early stages of construction of the European Extremely Large Telescope (E-ELT), assuming the final go-ahead is given at the end of 2010. The E-ELT is to be built on Cerro Armazones, a 3046-metre high mountain near ESO's Paranal Observatory in Chile, and is planned to be operational early in the next decade.
With a primary mirror 39 metres across, far larger than any visible light telescope currently in operation, the E-ELT will be "the world's biggest eye on the sky". This will give it an unparalleled power to see faint and distant objects in the sky.
The E-ELT will tackle the biggest scientific challenges of our time, and aim for a number of notable firsts, including tracking down Earth-like planets around other stars in the habitable zones where life could exist — one of the Holy Grails of modern observational astronomy. It will also perform "stellar archaeology" in nearby galaxies, as well as make fundamental contributions to cosmology by measuring the properties of the first stars and galaxies and probing the nature of dark matter and dark energy. On top of this astronomers are also planning for the unexpected — new and unforeseeable questions will surely arise from the new discoveries made with the E-ELT. The E-ELT may, eventually, revolutionise our perception of the Universe, much as Galileo's telescope did, 400 years ago.
Erecting the E-ELT's housing is a major engineering feat. Because of the size of the equipment inside, the moveable dome of the building has to be over 80 m high — about the height of the dome of St Paul's Cathedral in London.
The design for the E-ELT shown here was published in 2010 and is preliminary.
More information about the E-ELT is available in the E-ELT web pages, the E-ELT Press Kit and the E-ELT FAQ.
Credit:
About the Image
| | |
| --- | --- |
| Id: | potw1027a |
| Type: | Collage |
| Release date: | 5 July 2010, 10:00 |
| Size: | 4956 x 2792 px |
---
About the Object
---
Image Formats
---
Also see our
---