Announcement
The Next ESO Picture of the Week Could Be Yours
12 August 2011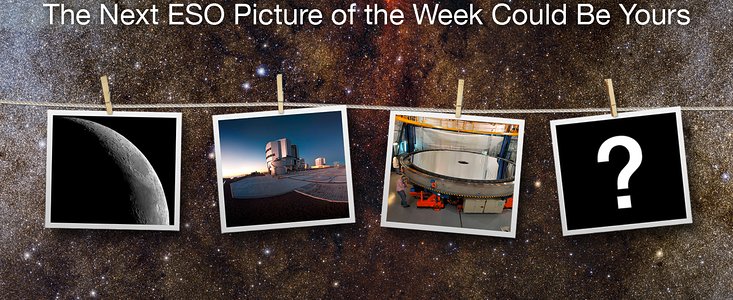 ESO is launching a new initiative — a Flickr group called Your ESO Pictures, which will work as a platform for everyone who wishes to share their ESO-related photos with the world.

You are encouraged to submit pictures of anything connected with ESO — snapshots of our telescopes, drawings, your own artwork inspired by ESO or even images produced from astronomical data from ESO telescopes. We will select the best ones and occasionally feature them as Pictures of the Week on eso.org. If you have a more extensive gallery of pictures taken at ESO sites you could even receive the title of ESO Photo Ambassador.

The Flickr group accepts photographs and videos, as well as illustrations and animations. Examples of content, authored by ESO Photo Ambassador José Francisco Salgado, have already been added to the group pool. Now it is your turn: join Your ESO Pictures and start sharing your images with us!
Links
Contacts
Oana Sandu
Community Coordinator
ESO ePOD, Garching, Germany
Phone: +49 89 320 069 65
Mobile: +49 176 943 942 20
E-mail: osandu@partner.eso.org
Twitter: http://twitter.com/ESO