Announcement
French Actress Juliette Binoche and Irish Actor Gabriel Byrne Visit ESO's Chilean Sites
4 March 2014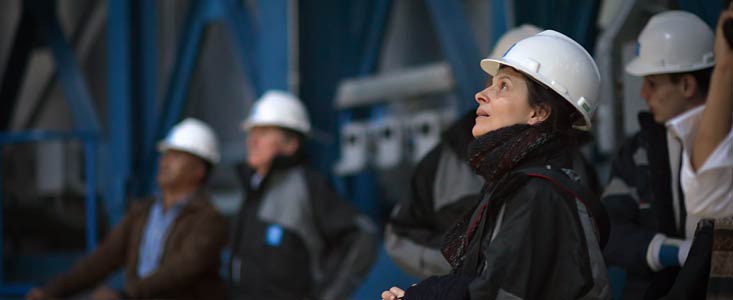 Award-winning French actress Juliette Binoche and Irish actor Gabriel Byrne visited ESO's Paranal Observatory in northern Chile on 22 February 2014. Juliette Binoche then travelled on to visit ALMA on 24 February.
Famed for their performances in many successful films, Juliette Binoche and Gabriel Byrne expressed an interest in visiting the most prominent observatories during their free time in northern Chile. They are currently shooting an upcoming film named The 33 — based on the dramatic true story of the miners who were successfully rescued after many weeks trapped underground following an accident at the San José mine in 2010.
The actress and actor were hosted at Paranal by ESO's Director of Administration Patrick Geeraert and ESO's Representative in Chile Fernando Comerón. Arriving in time to watch the sunset at Cerro Paranal on 22 February, they saw the opening of the VLT domes as they prepared for the night ahead. Juliette Binoche and Gabriel Byrne also witnessed astronomers in action in the VLT control room as the telescope collected data from the cosmos, and showed keen interest in the work astronomers are doing to help to put human existence in perspective and better understand our place in the Universe.
On 24 February Juliette Binoche travelled through the Atacama Desert to the Chajnantor Plateau in the Chilean Andes where she was hosted at the ALMA Observatory by the Director, Pierre Cox.
This was an exciting opportunity for ESO to share its journey to the stars with other stars, as Juliette Binoche and Gabriel Byrne shared their time with staff at the observatories.
Contacts
Richard Hook
ESO, Public Information Officer
Garching bei München, Germany
Tel: +49 89 3200 6655
Cell: +49 151 1537 3591
Email: rhook@eso.org