Announcement
New ALMA Equipment Designed in Chile
25 August 2014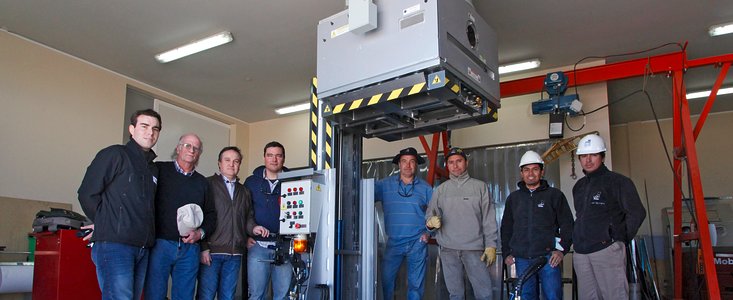 New equipment for transporting one of the most sensitive components of the ALMA array — the antenna Front Ends (cryogenic refrigerators) — has been delivered to ALMA by the National Radio Astronomy Observatory (NRAO), the North American associate of the Atacama Large Millimeter/submillimeter Array. This new vehicle, which will save lots of time and increase safety during manoeuvers, was completely designed and built in Chile. It is the first shipment of one of four vehicles for handling the Front Ends that hold the set of detectors inside ALMA´s antennas, and is part of the technological exchange policy with the host country.
The Front End Handling Vehicle (FEHV) — a robust elevator-crane car — is the result of a three year design and manufacturing collaboration between NRAO and a team of Chilean professionals from the Prolaser and Maestranza Walper companies, located in the city of Valdivia in the south of Chile. The main tourist attractions of this region inspired the names of each of these four vehicles, being the first one called after a river: Calle-Calle.
The FEHV will help to shorten the time needed to set up and remove the receivers from the antennas. "This replacement job takes place every five days. Over the 30 year lifetime projected for the observatory using this vehicle will save a huge amount of resources, considering that this specific task takes 2000 person hours a year, approximately", proudly stated Rodrigo Brito, team leader supervising the official shipment of the manufacturing contribution from the North American partner of ALMA.
Each cryostat, together with the receivers comprising each Front End, costs about one million dollars, weighs around 750 kilogrammes and must be lifted up almost two metres to be positioned precisely in the confined space inside the antennas cubicles. The FEHV has a built-in platform to lift its load in a safe way, move it and rotate it for perfect alignment during the setup. It weighs 709 kilogrammes and is 2.20 metres long, 1.05 metres wide and 1.50 metres tall.
Contacts
Richard Hook
ESO, Public Information Officer
Garching bei München, Germany
Tel: +49 89 3200 6655
Cell: +49 151 1537 3591
Email: rhook@eso.org