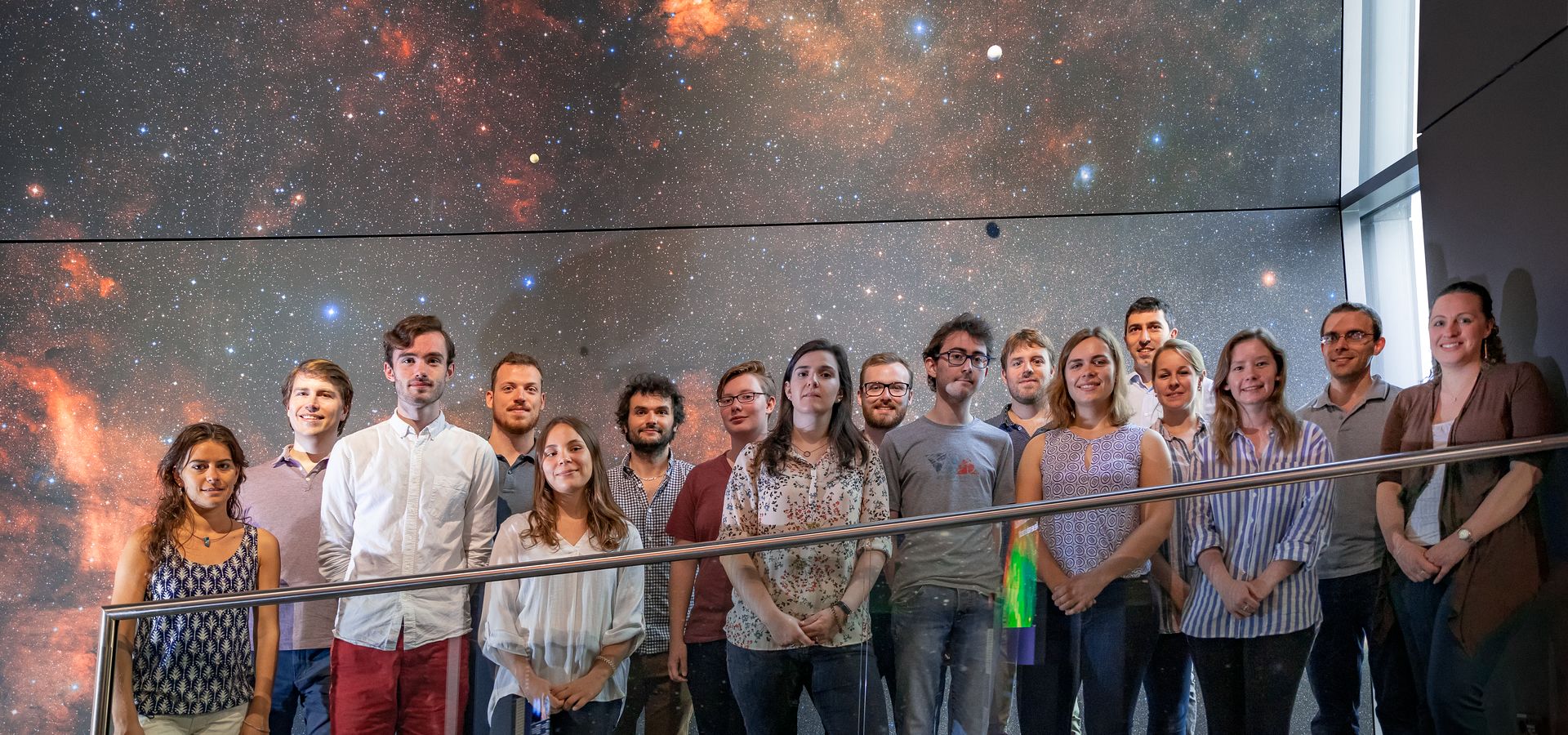 Meet our 2019 Summer Research Programme students
23 August 2019
What you'll discover in this blog post:
What it's like to spend a summer working on astronomical research at ESO
How the Summer Research Programme gave students insight into the scientific process and the lives of astronomers
The range of activities experienced by this year's students — from working on research projects to exploring nature, discussing scientific papers, and learning about ESO
What belonging to ESO's diverse international community feels like for a young astronomer
This summer, ESO held its first ever Summer Research Programme, giving seven talented university students the opportunity to undertake a six-week long research project at ESO Headquarters. Each student worked on a different project, each of which covered a unique area of astronomy — from comets to cosmology. After six weeks packed with new experiences, new networks and new friendships, we speak to the students to find out how they felt about the programme, and what new knowledge and skills they will take back to their home countries.
Name: Samuel Ward
Nationality: British
University: Durham University, United Kingdom
Project: Modulated variability: a new window into stellar pulsations
Q. What was the best part of the summer school for you, and why?
A. Being part of an active research environment has been such a unique experience and very different to usual university life. The debate and discussion after a presentation or talk on cutting edge astronomical discoveries gives an incredible insight into the scientific process; answers aren't always known and opposing ideas clash, but you can see how it all shapes our growing understanding of the cosmos. Contributing to this atmosphere, even for only a summer, has been such a privilege and it has made me excited to continue my academic career as I look into PhD positions for next year.
Q. What memory stands out from the summer school?
A. One thing I really appreciated was how friendly and welcoming all the advisors, Fellows and Students at ESO were. We were encouraged to make the most of our time in Munich and experience all that the region has to offer. My favourite memory was going hiking in the Alps with the other summer students ⁠— the route was longer than expected, but the views were absolutely spectacular.
----------
Name: Aisha Bachmann
Nationality: German
University: Ruhr Universität Bochum, Germany
Project: Understanding the formation mechanism of galaxies at their (ghostly) extremes
Q. What did you enjoy most about the summer school?
A. It's hard to choose one thing, but I think meeting so many new people and working on a very interesting research project were definitely the best. Even if at some points in the project work was going slowly and frustration levels rose, solving problems and seeing the result was definitely worth it. The whole working atmosphere at ESO was amazing and I'm really glad I got to have this experience.
Q. How will you use the knowledge and experience you've gained this summer in the future?
A. The experience, knowledge and skills I gained in the Summer Research Programme will be super useful for upcoming research projects: first of all, my master thesis. Especially working with astronomical software I hadn't used before is an extremely helpful skill for future projects. Additionally gaining insight into many different research areas and topics through the lectures is helping me determine in which area I'd like to work later on in my career.
----------
Name: Tania Sofia Gomes Machado
Nationality: Portuguese
University: University of Lisbon, Portugal
Project: Preparing for the Extremely Large Telescope : how will high-redshift star-forming galaxies appear with HARMONI ?
Q. What skills have you gained and developed over the course of the summer school?
A. I believe the most correct answer to this would be that my programming, data analysis and presentation skills have become so much better. However, that is the pretty picture, the real answer doesn't sound so worthy of a CV!
The truth is, I have learned the ups and downs of scientific research; I have learned how to interpret ugly graphs, and to take some real scientific information out of them even though in desperation they didn't seem to carry any information at all; I have learned that sometimes not detecting any source in the data can actually be a good result (one that even my advisors were not expecting!); I have accepted that every astronomer sometimes gets stuck, or that code doesn't work, or that data makes no sense, and in those times, spending ten minutes asking for help is better than spending five hours getting nowhere; I have learned that sometimes one starts the day with certain questions and ends up answering completely different questions. That is the not-so-pretty picture, but it has in fact made me a better student and astronomer.
This feeling of belonging to the ESO community... was indeed unforgettable
Q. What was the most important thing about the summer school for you?
A. I think the most important part for me was the feeling of belonging. By this I mean the feeling of being part of a nice community of scientists, all with different career paths and specifications. I remember each day waking up and telling my housemate what was so exciting about the day ahead! For example, Tuesdays were Lunch Talk (which meant pizza after a great presentation), Wednesdays meant Board Games Club in the afternoon, Fridays were Journal Club day, and so on. Every morning, at 10:30 there was Science Coffee, and even though all of us were working on something important at that time, we would push each other to take that break and have a coffee with other amazing astronomers. This feeling of belonging to the ESO community, and belonging to it together with six other students that were in the same situation, was indeed unforgettable.
----------
Name: Francesco Zagaria
Nationality: Italian
University: University of Pavia, Italy
Project: Kinematical study of planet forming discs
Q. Has attending the summer school made you change your plans for the future? If so, in what way?
A. I have always been very interested in science since I was a child. During my years at university, I really liked mathematics lectures but I was not sure about enrolling for a PhD programme in that subject area. Here at ESO, I had the chance to try my hand at a very different subject — exoplanetary physics — which I really enjoyed. This was the first time I did original research and, thanks to my advisors, I thoroughly appreciated this experience. This is why I am considering applying for a PhD position in this field, maybe even at ESO.
Q. What was the most surprising part of the summer school for you, and why?
A. When I applied for the programme, I didn't expect to build close relationships, especially in such a short time. Nonetheless, during the last six weeks, despite being fully focused on science, I had the occasion to really get to know many new people. Firstly, I was blessed with three amazing advisors, who gave me great advice not only about science but also about "life in science". Then, meeting my wonderful, lighthearted and easygoing programme-mates gave me the chance to build new and promising friendships. So the most exciting part about the Summer Research Programme was definitely the enriching interplay between science and human relations.
----------
Name: Abbie Donaldson
Nationality: British-Irish
University: University of St Andrews, United Kingdom
Project: Comet evolution: from the Kuiper Belt to a dormant comet in the near-Earth asteroid population
There were plenty of opportunities to listen to colleagues present their work, or discuss a recent paper at Journal Club.
Q. How has this summer school contributed to your personal and professional development?
A. I would say my confidence in communicating with others has improved significantly over the course of the summer school. Our advisors and all the ESO Fellows gave us plenty of opportunities to meet with them and with other ESO scientists, and encouraged us to ask questions and talk about our work whenever possible. As well as this, the programme concluded with all of us students presenting our research to an audience of ESO scientists. This was HUGELY nerve-wracking for me, but I am so glad I did it, and hopefully moving forward, I'll be more confident in presenting my work!
Q. What would you say surprised you most about the summer school?
A. What surprised me most about the summer school, and about working at ESO in general, is the emphasis placed on — dare I say — socialising! There were so many chances every single day to go to talks about interesting topics that I'd never even considered before. There were plenty of opportunities to listen to colleagues present their work, or discuss a recent paper at Journal Club. And of course, we were regular attenders of Science Coffee every day at 10:30, where we just took some time to chat to the Fellows, PhD students, and to each other. It was such a welcoming, social environment, and I think I'd have been very happy to stay on at ESO for a long time!
----------
Name: Marta Nowotka
Nationality: Polish
University: Colorado College, United States
Project: Caught in the act: witnessing the formation of the most massive galaxy clusters across cosmic time
Q. What did you find most exciting about the summer school?
A. The most exciting thing about the summer school at ESO was experiencing how an astronomical research institution works from the inside. Despite what many may think, it is not all about sitting in front of computer analysing astronomical data. In a place where everybody is an expert in their field, there is a lot of exchange of ideas and collaboration. I enjoyed attending discussion meetings, invited talks, Journal Club, and — what kept us all alive through coding difficulties! — daily Science Coffee. I felt I was in a place that not only pushes the frontiers of astronomical research forward but also fosters a welcoming and enthusiastic community.
In a place where everybody is an expert in their field, there is a lot of exchange of ideas and collaboration.
Q. What memory stands out from the summer school?
A. The memory that stands out for me was the last day of the programme, when we had a workshop. I presented first, and it was the first serious science presentation I've ever had to give, so I felt very nervous. I thought that an undergraduate student giving a talk in a room full of astronomers was an uncommon occurrence at ESO, but as the first few slides showed up on the screen, the fear went away.
After my talk, I relaxed and focused on other students' presentations. During the six weeks of summer school, we shared an office and talked about the ups and downs of our projects frequently, so I knew how much energy they had all put into their work. It was impressive how much everybody achieved. Receiving positive feedback and interest in our projects from the audience was encouraging and made the summer school experience even more rewarding.
----------
Name: Matthew Wilkinson
Nationality: Australian
University: University of Queensland, Australia
Project: Dark matter content of galaxies from globular cluster kinematics
Q. What was the most emotional part of the last six weeks?
A. The day that was most full of emotions was definitely the final presentation day. Arriving at ESO, knowing I had to give a talk about the work I had been doing over the summer to a crowd of experts was extremely nerve wracking.
So I get to our makeshift office, take off my sunglasses and begin to set up. I look through my bag and begin to panic as I realise I have (for the first time) forgotten to pack my regular clear glasses. With half an hour before the first presentation, I have a choice: cycle home as fast as I can and retrieve my glasses, or do the presentation blind. I look over to Abbie and Aisha, who are coping with their nerves by chatting about plans for the evening. I then know what I have to do. They are also presenting their work today and I don't want to miss the talks from my new friends. I run out to my bike and pedal as fast as I can.
I feel like I have learned so much about astronomy and astrophysics that I never would have seen at my home university.
I got back to ESO two minutes before the first presentation started. I had about 15 minutes to calm down before giving my presentation. I started and everything was going well until the microphone broke halfway through. I panicked a little at the thought that I would have to shout the rest of the presentation, but fortunately I was given a back-up microphone. I got back into the talk and by the end, I was satisfied that everyone had gained something from my presentation. It came as a huge relief after all the excitement of that morning. The rest of the presentations by my fellow summer students were all really high quality.
A very long series of flights later, I am now back in my home university, halfway across the world in Australia, where I will be using several techniques that I learned during my time at ESO. I am very thankful for this opportunity. I feel like I have learned so much about astronomy and astrophysics that I never would have seen at my home university. I also made many important and unforgettable connections in the astronomical community that I'm sure will soon come in handy.