Announcement
The Art of Sculpting Glass
Ultra-light adaptive optics structure completed for ESO's VLT
7 September 2010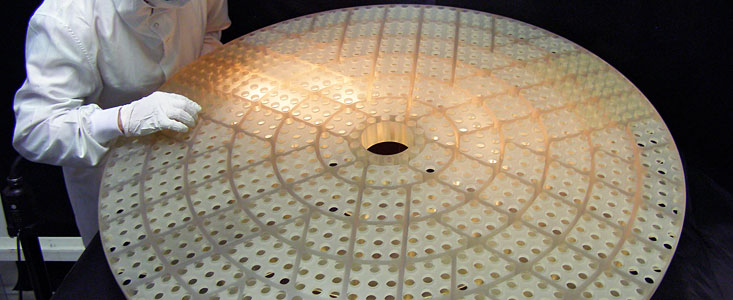 An ambitious project is now in progress at ESO to convert one of the four VLT Unit Telescopes into a fully adaptive telescope. The telescope's 1.1-metre diameter secondary mirror is to be replaced by an extraordinary deformable mirror system that can be used with laser guide stars to correct for the blurring effects of the Earth's atmosphere and allow much sharper images to be achieved for all the telescope's instruments. A major milestone in this quest has just been successfully passed with the completion and testing of an ultra-lightweight "reference optic".
The deformable secondary mirror has been contracted out by ESO to Microgate and ADS (Italy). Another supplier in the south of France, SESO, has just successfully delivered the reference optic, which is the heart of the secondary mirror system. This reference optic is an intricate, very rigid, but also exceptionally light structure made from Zerodur, a glass–ceramic made by Schott AG. It does not itself reflect light, but will provide an accurately shaped foundation for a 2 mm thin mirror shell 1.1 m in diameter. When the mirror system is completed, 1170 actuators will act on the very flexible thin shell mirror to change the shape of its reflecting optical surface to correct for the starlight wobbles produced by the Earth's atmosphere.
Despite being 1.1 m in diameter the reference optic is only 12 cm thick. Without holes the weight of such a piece would be 300 kg, but the intricate manufacturing process removed material from numerous pockets on the back of the structure and reduced the weight by 80% to a mere 56 kg. In addition to the weight reduction activities, another major challenge was the drilling of 1170 holes through the structure. These had to be positioned and angled to extremely high precision.
The ribs that have been carved out behind the 8 mm thick reference surface make for a very rigid structure and this, combined with the lighter weight, makes the secondary unit extremely stable, even in a situation where inclination changes constantly as the telescope points to different parts of the sky.
The full system will be tested in early 2011 for final delivery to ESO in early 2012. It is scheduled to be delivered to Chile for installation and commissioning on the telescope during 2013.
The Adaptive Optics Facility constitutes a major stepping-stone for the European Extremely Large Telescope (E-ELT). It constitutes a significant technological development and the experience gained will help to solve some of the problems already identified as major challenges for the E-ELT.
Links
Contacts
Robin Arsenault
ESO, Germany
Tel: +49 89 3200 6524
Email: rarsenau@eso.org
Richard Hook
ESO, La Silla, Paranal and E-ELT Press Officer
Garching bei München, Germany
Tel: +49 89 3200 6655
Email: rhook@eso.org