Announcement
ESA/ESO/NASA FITS Liberator Version 3 Released
Now stand-alone and open source
1 October 2010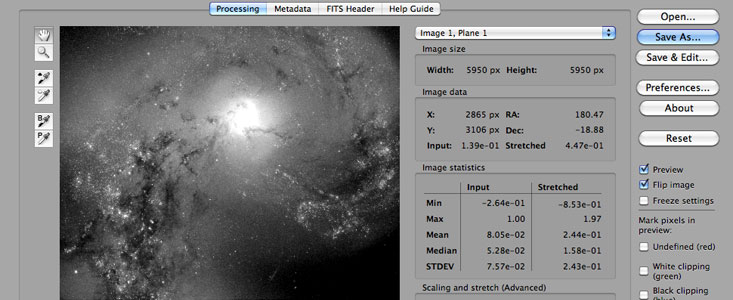 Today, the third — and best — version of the popular ESA/ESO/NASA FITS Liberator image-processing software has been released with several significant improvements.
As with the previous versions of the FITS Liberator, the new version makes another leap towards making the creation of colour images from raw astronomical observations easier and faster. The FITS Liberator continues to support the FITS and PDS formats, preferred by astronomers and planetary scientists respectively, which enables data to be processed from a wide range of telescopes and planetary probes, including ESO's Very Large Telescope, the NASA/ESA Hubble Space Telescope, NASA's Spitzer Space Telescope, ESA's XMM–Newton Telescope and Cassini–Huygens or Mars Reconnaissance Orbiter.
The new FITS Liberator incorporates a faster and more streamlined workflow. The CPU-intensive calculations have been optimised, thanks to significantly improved memory management, and this allows for time savings of up to 35%. For large images the savings in efficiency are even more pronounced, also thanks to a delayed application of stretch functions.
After consultation with the image-processing community it was decided to make the FITS Liberator a stand-alone application, so that Adobe Photoshop is no longer required to run it. Although Adobe Photoshop is the preferred application for producers of advanced colour outreach images from large observatories worldwide, a stand-alone application will add more flexibility and be accessible by a wider user base. The FITS Liberator now saves TIFF files, and opens them with one click in virtually any image-processing software, including Photoshop. Furthermore the software allows several instances of the user interface to be open simultaneously on Windows, again leading to significant time savings.
To sustain the future development of the software the entire source code, consisting of nearly 30 000 lines of code is being released as open source, and anyone wishing to contribute to future versions of the programme may do so.
Links
Contacts
Lars Holm Nielsen
Web & Advanced Projects Coordinator
ESO education and Public Outreach Department, Garching, Germany
Tel: +49-89-3200-6615
Cellular: +49-151-2265-2416
E-mail: lnielsen@eso.org
Lars Lindberg Christensen
Head, ESO education and Public Outreach Department, Garching, Germany
Tel: +49-89-3200-6761
Cellular: +49-173-3872-621
E-mail: lars@eso.org