Announcement
ESO Virtual Tours Reloaded
Version 2.0 brings ESO tours on iPod, iPhone and iPad
19 November 2010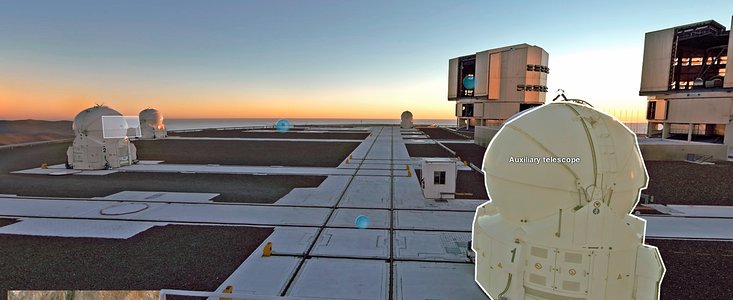 Version 2.0 of the ESO Virtual Tours brings higher quality views of the ESO facilities in Chile, as well as more background information incorporated through web links and pictures, allowing everyone to explore the sites of the most productive observatory in the world. Version 2.0 is also iOS compatible, making the tours available to iPod, iPhone and iPad users.
Currently, three Virtual Tours have been upgraded: La Silla, Paranal-Armazones and Chajnantor, but in 2011 most of ESO sites and offices will be opened for exploration in ESO's Virtual Tours archive.
ESO Virtual Tours take visitors on a walk around the Very Large Telescope's platform as the Sun sets over Antu, Kueyen, Melipal and Yepun, the four Unit Telescopes. From here, visitors can enter the dome of UT1 or Antu, examine the dust and rocks of the arid Atacama Desert or switch to night mode and admire the Milky Way and the beauty of the southern skies. The Paranal-Armazones tour also takes you inside the Residencia, the famous hotel where astronomers and ESO staff live and which was featured in the James Bond film, Quantum of Solace! With just a web browser one can even explore areas where visitors never go, such as the Very Large Telescope Interferometry tunnel.
In the La Silla Virtual Tour visitors can see the New Technology Telescope, the first in the world to have a computer-controlled main mirror, whereas the Chajnantor tour offers spectacular views over the plateau that soon will host 66 high-precision antennas of ALMA, the most powerful instrument for observing the cool Universe.
Links
Contacts
Oana Sandu
ESO, Garching, Germany
Community and Outreach Support
Phone: +49 89 3200 6965
E-mail: osandu@eso.org