Announcement
Earthquake in Chile Causes No Damage or Casualties at ESO Observatories
ESO expresses sympathy and support for victims
2 April 2014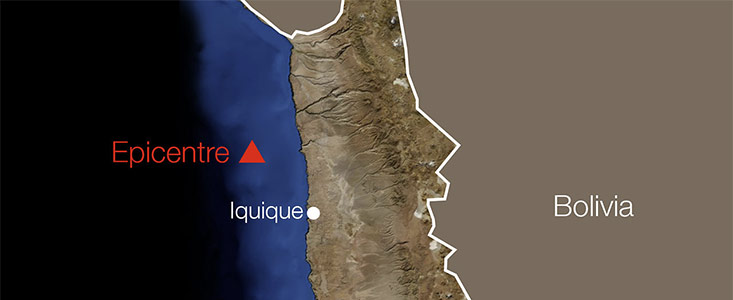 A magnitude 8.2 earthquake struck northwest Chile at 20:46 local time (01:46 CEST) on Tuesday 1 April 2014. The epicentre was about 95 kilometres north-west of the city of Iquique. The earthquake has caused significant casualties and damage in coastal regions. Large parts of the Pacific coast were evacuated in response to tsunami warnings.
ESO expresses its deepest condolences to the families of the victims, and its sympathy and support for all those affected by the earthquake.
The epicentre was about 500 kilometres from both the ALMA/APEX and Paranal sites. No casualties among ESO staff have been reported, and no damage to any ESO facilities, but this is affecting staff with families and friends in the north of Chile. Some of the staff at Paranal come from the most affected regions in Iquique and Arica. To our knowledge all staff currently on site have in the meantime been able to contact their family members in the region.
At Paranal the earthquake was registered as a very long but not very strong tremor.
Currently, ESO's Ultra High Definition Expedition also experienced the earthquake at the ALMA Observatory and will as usual report later today in their blog.
Links
Contacts
Richard Hook
Public Information Officer, European Southern Observatory

Garching bei München, Germany

Tel: +49 89 3200 6655
Email: rhook@eso.org
Valentina Rodríguez
ePOD Coordinator in Chile
Santiago, Chile
Tel: +56 2 4633123
Email: vrodrigu@eso.org