Announcement
Discover the ESO Supernova
Information event at the Garching Forschungscampus
6 March 2015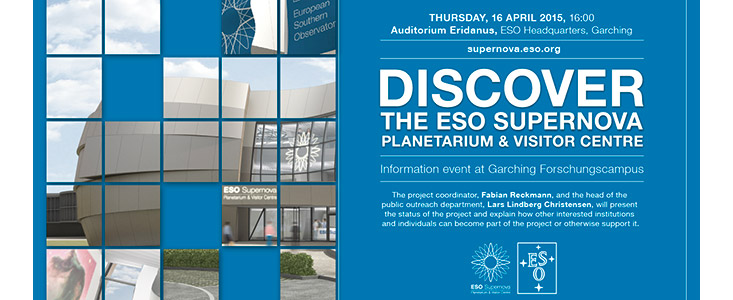 On Thursday 16 April at 16:00 ESO invites students and staff from all institutions on the Forschungscampus Garching to a presentation of the ESO Supernova Planetarium & Visitor Centre which will be held at ESO Headquarters in the Eridanus auditorium. The ESO Supernova is being built at the site of ESO Headquarters and will open in mid-2017. This event will allow students, staff and anyone else at Forschungscampus Garching to hear about the opportunities associated with this project that are relevant to them. The project coordinator, Fabian Reckmann and the head of the public outreach department, Lars Lindberg Christensen, will present the status of the project and explain how other interested institutions and individuals can become part of the project or otherwise support it.
The ESO Supernova will be a cutting-edge astronomy centre providing visitors with an immersive experience that will leave them in awe of the Universe we live in. The centre provides school classes and families with an unforgettable learning experience, where even the most abstract and distant topics in astronomy and physics are explained and visualised in an innovative way.
The heart of the ESO Supernova will be a fulldome planetarium with a dome of 14 metres in diameter, state-of-the-art projection technology and a scientifically accurate three-dimensional astronomical database. In addition to the planetarium an engaging astronomical exhibition, extending over 2200 square metres, will introduce to the science and technology behind modern astronomy and allow the visitor to learn about our place in the Universe. Visits to the planetarium and the exhibition will be free of charge, and can be made independently, as well as being part of one of the daily guided tours.
The ESO Supernova will also offer an extended educational programme, including special planetarium shows and guided tours for children of all ages, workshops, educational material for teachers to be used in the visitor centre or in the classroom and much more.
The ESO Supernova is made possible by a collaboration between the Heidelberg Institute for Theoretical Studies (HITS), the research institute of the Klaus Tschira Stiftung, and ESO. The building is a donation from the Klaus Tschira Stiftung and ESO will run the facility.
Links
Contacts
Lars Lindberg Christensen
Head of ESO ePOD
Garching bei München, Germany
Tel: +49 89 3200 6761
Cell: +49 173 3872 621
Email: lars@eso.org