Announcement
ESO Calendar 2016 Now Available
20 August 2015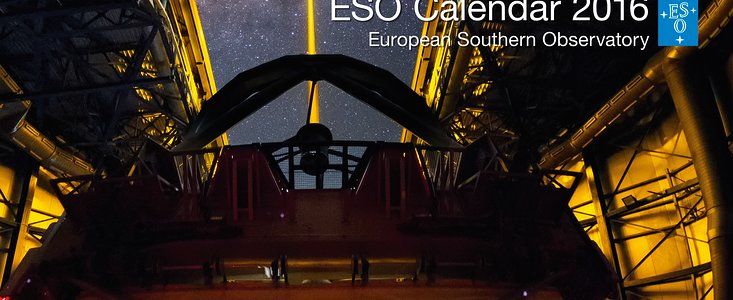 One of our most popular products, the ESO Calendar 2016, is now available to order in the ESO online shop.
The calendar's cover features a spectacular picture of ESO's Very Large Telescope (VLT) observing the region around the supermassive black hole at the Milky Way's centre. The calendar itself is packed with images of the cosmos as well as photographs of ESO telescopes in the rugged landscapes of northern Chile.
Highlights include Comet Lovejoy glowing emerald green above ESO's La Silla Observatory for the month of February, and the most detailed image ever taken of the strange Medusa Nebula for September. In June, the sharpest image taken so far by ALMA — sharper than is routinely achieved with the NASA/ESA Hubble Space Telescope in visible light — shows the protoplanetary disc surrounding the young star HL Tauri. Each month also marks the dates of lunar phases.
The calendar measures 43 x 43 centimetres and has 14 pages, with a cardboard back. The calendar is sold for 9.99 euros in the ESOshop, but stock is limited — so don't wait too long!
Links
View the individual pages of the ESO Calendar 2016 here.
Contacts
Lars Lindberg Christensen
Head of ESO ePOD
Garching bei München, Germany
Tel: +49 89 3200 6761
Cell: +49 173 3872 621
Email: lars@eso.org