Announcement
Join ESO's Second Social Media Gathering, #MeetESO
Observe the 2019 total solar eclipse from Chile
26 October 2018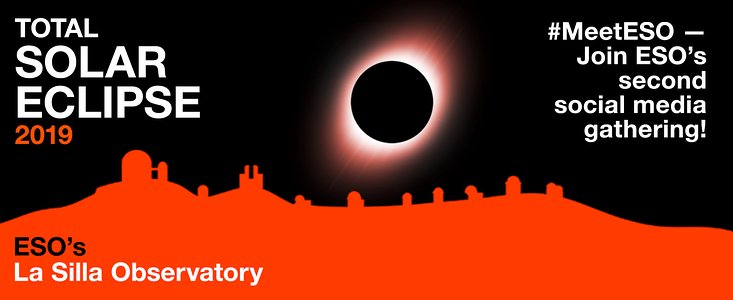 ESO is organising its second social media gathering in Chile, to coincide with the 2019 total solar eclipse, visible from La Silla Observatory, #LaSillaTSE. We invite social media enthusiasts from ESON countries to compete for the eight available places on #MeetESO. Selected participants are expected to travel to Chile at their own expense.
#MeetESO will take participants to the La Silla Observatory on the outskirts of the Chilean Atacama Desert. Here, they will have the opportunity to join eclipse enthusiasts to witness the total solar eclipse, #LaSillaTSE, and visit ESO's first observatory. The 2019 phenomenon is the only total solar eclipse visible from an ESO observatory for the next 212 years.
From La Silla, participants will travel to Paranal, home of ESO's Very Large Telescope — the world's most advanced visible-light astronomical observatory — and of ESO's survey telescopes that map the sky in the finest detail.
If time allows, #MeetESO participants will also visit the construction site of ESO's Extremely Large Telescope, the world's biggest eye on the sky.
Finally, the group will visit the Atacama Large Millimeter/submillimeter Array (ALMA), the largest ground-based astronomical project in existence, led by ESO together with its international partners. The visit will take place in both the Operation Support Facility at 2000 metres altitude, and also the antenna site, at 5000 metres altitude.
ESO will cover the cost of local transportation between sites, accommodation, food, and scheduled activities. The eight selected participants must be available to visit Chile at the end of June and beginning of July 2019 and will need to pay for their round-trip flight from their home country to Chile.
Those interested in entering the competition should first read the eligibility criteria here. If you want to be on our radar as we scan for our eight possible participants, fill out this form; always use the hashtag #MeetESO and show your passion for astronomy and ESO on your social media channels (Facebook, Twitter, Instagram and YouTube). We invite you to view the full competition rules here.
We encourage participants to follow ESO's channels and look out for any private messages from ESO or our Community Coordinator, Oana Sandu.
Finalists will be announced in December 2018.
Additional information about this second #MeetESO can be found here.
Links
Contacts
Oana Sandu
Community Coordinator & Communication Strategy Officer
ESO education and Public Outreach Department
Tel: +49 89 320 069 65
Email: osandu@partner.eso.org