Announcement
The Messenger No. 177 Now Available
21 October 2019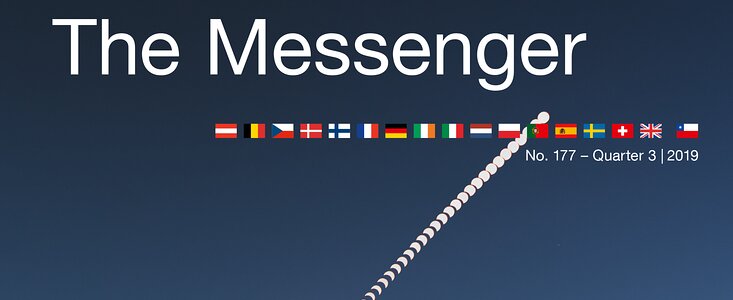 The latest edition of ESO's quarterly journal, The Messenger, is now available online. Find out the latest news from ESO on topics ranging from astronomical events to the latest science discoveries.
Highlights of this edition include:
Distributed Peer Review: F. Patat et al.
M87 Event Horizon Telescope Results and the Role of ALMA: C. Goddi et al.
The PHANGS Surveys: E. Schinnerer et al.
Total Solar Eclipse Over La Silla: L. Ventura et al.
Download The Messenger in PDF format or visit The Messenger website to subscribe and receive a free printed copy.
This product is also available in the ESOshop.
Links
Contacts
Oana Sandu
Community Coordinator & Communication Strategy Officer
ESO Department of Communication
Tel: +49 89 320 069 65
Email: osandu@partner.eso.org