Announcement
The Messenger No. 179 Now Available
11 May 2020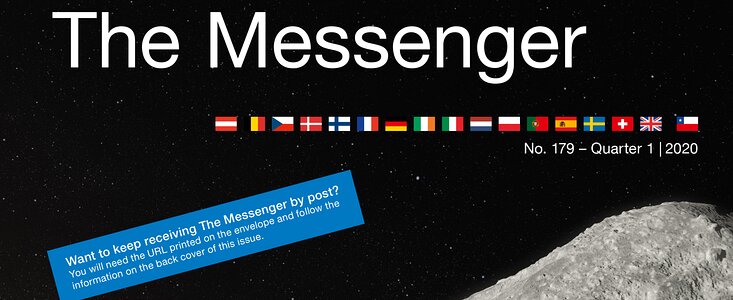 The latest edition of ESO's quarterly journal, The Messenger, is now available online. Find out the latest news from ESO on topics ranging from new instruments to the latest science discoveries.
Highlights of this edition include:
2018 Visiting Committee Report: H.-W. Rix
SPHERE Unveils the True Face of the Largest Main Belt Asteroids: P. Vernazza et al.
The ASPECS Survey: M. Aravena et al.
Download The Messenger in PDF format or visit The Messenger website to subscribe and receive a free printed copy.
This product is also available in the ESOshop. 
Confirm your ESO Messenger subscription to the print edition by 10 September. Please hold on to your envelope when it arrives — further details are on the back page of The Messenger.
Links
Contacts
Oana Sandu
Community Coordinator & Communication Strategy Officer
ESO Department of Communication
Tel: +49 89 320 069 65
Email: osandu@partner.eso.org