Announcement
Bavarian Minister of Sciences and Arts visits ESO Headquarters
18 November 2021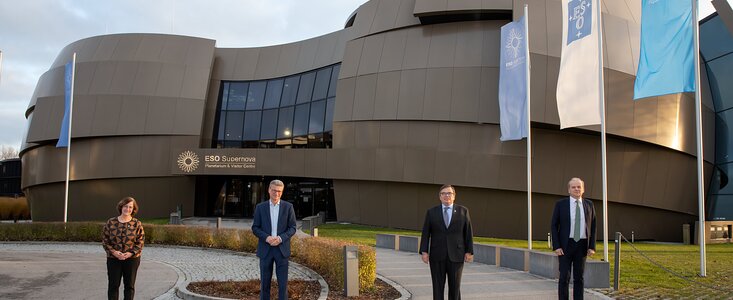 Today, the Bavarian Minister of Science and Arts Bernd Sibler visited the ESO Headquarters in Garching bei München, Germany. Minister Sibler was accompanied by Rolf-Dieter Jungk, Head of Office in the Bavarian State Ministry for Science and Art and a small delegation, in line with current COVID-19 restrictions. The visit provided an opportunity for the Minister and his delegation to learn more about ESO and its cutting-edge science and technology.
The visitors met with ESO's Director General Xavier Barcons, ESO's Council President Linda Tacconi, the ESO Director of Administration Claudia Burger, the ESO Director for Science Rob Ivison, and the ESO Deputy Head of the Office of the Director General Nikolaj Gube.
After a presentation about ESO and its activities by the Director General, Minister Sibler and his delegation were given a tour of the facilities at the Garching site, including a stop at the visitor window of ESO's integration hall. This is where some of the components for the telescopes, including the upcoming ESO's Extremely Large Telescope, are prepared and tested.
Later, the delegation had a guided tour of the ESO Supernova Planetarium & Visitor Centre — which provides visitors with an immersive experience of astronomy by showcasing ESO-specific scientific results, projects, and technological breakthroughs. From its home in the southern German state of Bavaria, the ESO Supernova has been engaging and inspiring the next generation of scientists since 2018. It boasts interactive planetarium shows, workshops and tours which can be adapted for all ages and follow the Bavarian curriculum for mathematics and physics.
ESO Director General Xavier Barcons said: "I'm very pleased to welcome Minister Sibler to the ESO Headquarters in Garching bei München, which has been the organisation's home in Bavaria for over 40 years. This is where ESO conceives and develops world-leading telescopes and instruments and engages the public with astronomy through the ESO Supernova. We look forward to continuing our scientific collaboration with our many partners in the state of Bavaria for decades to come."
Minister Bernd Sibler said: "The range of scientific achievements made here at the headquarters of the European Southern Observatory is more than impressive. For it is not only through the development and construction of key parts for the most powerful ground-based telescopes around the world that cutting-edge astronomical research is made possible here. With the ESO Supernova Planetarium & Visitor Centre, highly abstract scientific content is also presented to the public in a vivid and fascinating way. This is how modern science communication works. It is also an important achievement of ESO Director General Xavier Barcons and all the staff here in Garching. The fact that this versatile and modern international scientific centre is located here in Bavaria is proof of the excellent conditions that internationally leading science finds in Bavaria."
Contacts
Bárbara Ferreira
ESO Media Manager
Garching bei München, Germany
Tel: +49 89 3200 6670
Email: press@eso.org