CONCERTO show starts with new view of the Crab Nebula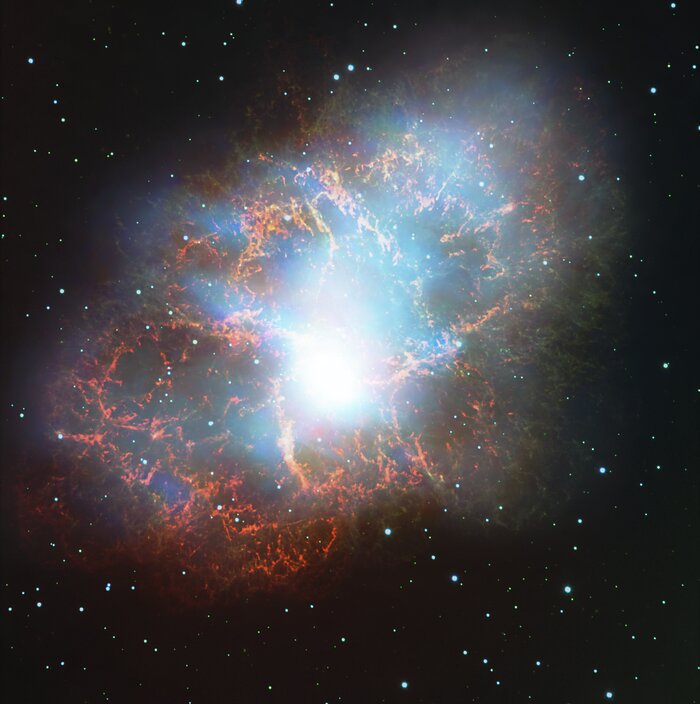 This image of the Crab Nebula (also known as Messier 1) in the constellation of Taurus is an overlay of one of the first-light images taken by the CONCERTO instrument on the APEX telescope, operated by ESO, with an image taken by the FORS 2 instrument on ESO's VLT. CONCERTO's data is the white central glow, with the colourful structures in the background coming from the VLT image. The Crab Nebula is the remnant of a supernova explosion at a distance of about 6,000 light-years, observed almost 1,000 years ago, in the year 1054. 
CONCERTO is able to scan the sky at frequencies between infrared and radio waves and has been designed to look at radiation emitted by ionised carbon atoms, one of the most valuable tracers of star formation in the early cosmic ages. 
Credit:
CONCERTO team/A. Beelen, ESO
About the Image
| | |
| --- | --- |
| Id: | ann21010b |
| Type: | Observation |
| Release date: | 6 July 2021, 14:00 |
| Related announcements: | ann21010 |
| Size: | 1989 x 2000 px |
---
About the Object
---
Image Formats
Fullsize Original
Large JPEG
624.4 KB
Screensize JPEG
180.6 KB
---
Zoomable
---
Coordinates
| | |
| --- | --- |
| Position (RA): | 5 34 31.75 |
| Position (Dec): | 22&deg 0' 43.25" |
| Field of view: | 6.83 x 6.87 arcminutes |
| Orientation: | North is 0.1° right of vertical |