Radio image of the 30 Doradus nebula with data from ALMA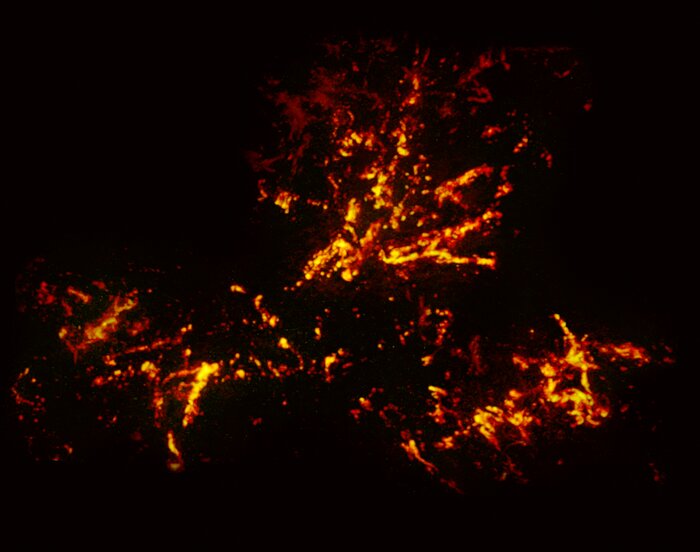 This image shows the star-forming region 30 Doradus, also known as the Tarantula Nebula, in radio wavelengths, as observed by the Atacama Large Millimeter/submillimeter Array (ALMA). The bright red-yellow streaks reveal regions of cold, dense gas which have the potential to collapse and form stars. The unique web-like structure of the gas clouds is characteristic of the Tarantula Nebula.
Credit:
ALMA (ESO/NAOJ/NRAO)/Wong et al.
About the Image
| | |
| --- | --- |
| Id: | eso2209b |
| Type: | Observation |
| Release date: | 15 June 2022, 19:15 |
| Related releases: | eso2209 |
| Size: | 4983 x 3930 px |
---
About the Object
---
Image Formats
---
Zoomable
---
Wallpapers
---
Coordinates
| | |
| --- | --- |
| Position (RA): | 5 38 45.17 |
| Position (Dec): | -69&deg 4' 37.05" |
| Field of view: | 8.32 x 6.56 arcminutes |
| Orientation: | North is 90.1° right of vertical |