Announcement
Presidential Summit to take place on Paranal
Fourth Summit of the Pacific Alliance
4 June 2012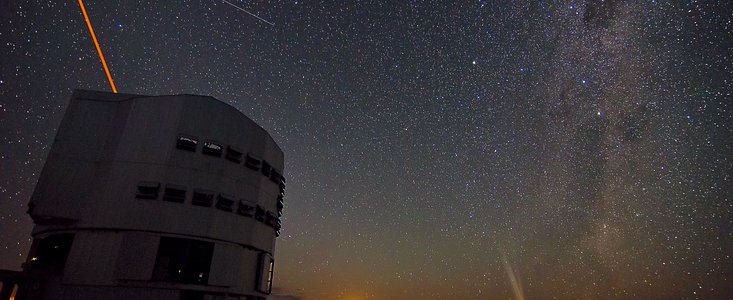 On Wednesday 6 June, the Presidents of four Latin-American countries will gather at ESO's Paranal Observatory in Chile's Atacama Desert, where the Fourth Summit of the Pacific Alliance is due to take place. Paranal is the home of ESO's Very Large Telescope (VLT), the world's most advanced visible-light astronomical observatory.
Presidents Sebastián Piñera of Chile, Ollanta Humala of Peru, Juan Manuel Santos of Colombia, and Felipe Calderón of Mexico will hold a meeting to ratify the Framework Agreement of the Pacific Alliance, to promote regional integration and higher growth, development and competitiveness between the Member Countries of the Alliance, with the aim to move progressively towards the goal of achieving free movement of goods, services, capital and persons.
Representatives from Costa Rica and Panama were invited as observers, and officials from Canada, Japan and Australia were also invited as guests.
The President of the ESO Council, Xavier Barcons, the Director General of ESO, Tim de Zeeuw, as well as ESO's Representative in Chile, Massimo Tarenghi, and the Director of the Observatory, Andreas Kaufer, will be present to officially welcome President Piñera and offer the delegations a tour of the facilities.
Please note that the Summit is a closed event and only members of the press previously registered through the Chilean Government will be allowed on-site.
More information, including photographs, will be provided through our usual channels on the day of the event.
Links
Contacts
Valentina Rodríguez
ePOD Coordinator in Chile
ESO
Santiago, Chile
Tel: +562 4633123
Email: vrodrigu@eso.org
Laura Ventura
Education & Outreach Officer in Chile
ESO
Santiago, Chile
Tel: +562 4633265
Email: lventura@eso.org
Douglas Pierce-Price
Public Information Officer
ESO
Garching, Germany
Tel: +49 89 3200 6759
Email: dpiercep@eso.org