Announcement
Award for ESO Headquarters Extension Architects Auer Weber
4 April 2014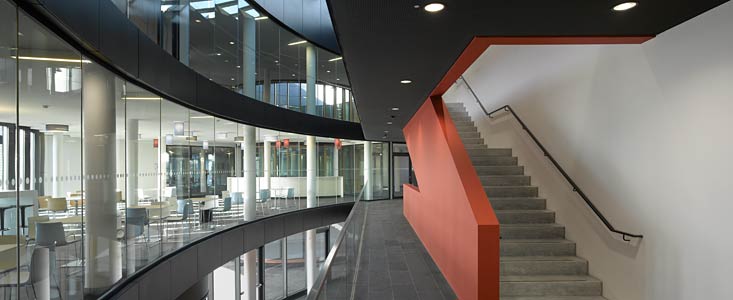 Auer Weber has won a Best in Interior and Architecture award for the ESO Headquarters extension project at the Architecture, Interior, Technical Solutions (AIT), Awards 2014. After being shortlisted as one of six finalists in the category of Office/Administration, the ESO Headquarters extension project went on to receive a special mention at the award ceremony at the Light+Building Trade Fair 2014 held in Frankfurt, Germany on 2 April 2014.
The AIT Award was first launched in 2012 and immediately became one of the largest competitions for architecture and interior design worldwide. An internationally renowned jury of architects and interior designers judge the awards — this year from a total of 573 submitted works from 31 countries. The award is divided into eight different categories [1] where all types of architectural projects and interior spaces can be submitted.
On 10 March 2014, an international jury selected the ten to fifteen best projects in each category in a two-phase assessment process. In a third phase, the submissions were discussed once again and the jury decided which projects were to receive the final awards. The ESO Headquarters extension project received a special mention.
The winning projects of the AIT Award 2014 will be presented in the AIT ArchitekturSalons and published in the magazine AIT.
Auer Weber also designed the Residencia at ESO's Paranal Observatory in Chile, which was a recipient of both a LEAF Award in 2004 and a Cityscape Architectural Review Award in 2005. It was later listed as one of the Top 10 Buildings of the Decade. The ESO Headquarters extension marks another significant step forward in the organisation's constant evolution.
Notes
[1] AIT Award categories include: Residential, Hotel/Catering, Retail /Trade, Office/Administration, Health/Health Care, Sports/Recreation, Public Works/Education and Industrial/Commercial.
More Information
ESO is the foremost intergovernmental astronomy organisation in Europe and the world's most productive ground-based astronomical observatory by far. It is supported by 15 countries: Austria, Belgium, Brazil, the Czech Republic, Denmark, France, Finland, Germany, Italy, the Netherlands, Portugal, Spain, Sweden, Switzerland and the United Kingdom. ESO carries out an ambitious programme focused on the design, construction and operation of powerful ground-based observing facilities enabling astronomers to make important scientific discoveries. ESO also plays a leading role in promoting and organising cooperation in astronomical research. ESO operates three unique world-class observing sites in Chile: La Silla, Paranal and Chajnantor. At Paranal, ESO operates the Very Large Telescope, the world's most advanced visible-light astronomical observatory and two survey telescopes. VISTA works in the infrared and is the world's largest survey telescope and the VLT Survey Telescope is the largest telescope designed to exclusively survey the skies in visible light. ESO is the European partner of a revolutionary astronomical telescope ALMA, the largest astronomical project in existence. ESO is currently planning the 39-metre European Extremely Large optical/near-infrared Telescope, the E-ELT, which will become "the world's biggest eye on the sky".
Links
Contacts
Astrid Maria Rappel
Auer Weber Assoziierte GmbH
München, Germany
Tel: +49 89 381 617 -620
Email: a.rappel@auer-weber.de
Richard Hook
ESO Public Information Officer
Garching bei München, Germany
Tel: +49 89 3200 6655
Cell: +49 151 1537 3591
Email: rhook@eso.org