Announcement
ESO Calendar 2017 Now Available
3 August 2016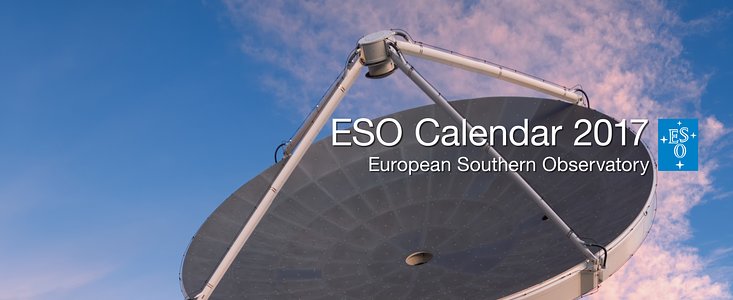 One of our most popular products, the ESO Calendar, is now available in its 2017 incarnation, and can be ordered from the ESO online shop from 5 August.
The calendar's cover features a pink-tinged picture of ALMA's majestic high-precision antennas, spread over the Chajnantor plateau at an altitude of 5000 metres in the Chilean Andes. Inside, the calendar is packed with spectacular images of the cosmos as well as photographs of ESO's telescopes against the striking Chilean landscapes.
For the month of May, an artist's impression shows the forthcoming European Extremely Large Telescope that will be the world's largest optical and infrared telescope, set to tackle the biggest scientific questions in cosmology. The mysterious cometary globule CG4 glows menacingly in March, and one of the sharpest images ever taken of the entire star formation region of Messier 17 has been chosen for October. In September, our home galaxy, the Milky Way, stretches across the sky above the La Silla Observatory, rich with state-of-the-art astronomical telescopes. Also marked for each month are the dates of the lunar phases.
The calendar measures 43 x 43 centimetres and has 14 pages, with a cardboard back. It is on sale for 9.99 euros in the ESOshop, but stock is limited — so don't delay!
Links
View the individual pages of the ESO Calendar 2017 here
Contacts
Richard Hook
ESO Public Information Officer
Garching bei München, Germany
Tel: +49 89 3200 6655
Cell: +49 151 1537 3591
Email: rhook@eso.org