Announcement
ESO Annual Report 2017 Now Available
12 June 2018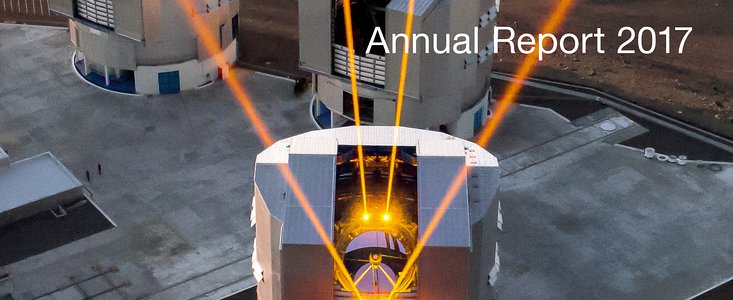 The ESO Annual Report 2017 is now available. It presents a summary of ESO's many activities throughout the year. The contents include:
Research highlights from ESO facilities, involving the first detections and discoveries of exotic astronomical objects, and the latest results covering aspects of astronomy ranging from the Sun to planets around other stars and high-redshift galaxies.

A summary of the activities at ESO's observatories in Chile.

The latest news from the Atacama Large Millimeter/submillimeter Array (ALMA) and Extremely Large Telescope (ELT) projects.

News about ESO staff (including the International Staff Association and Local Staff Representatives), new diversity initiatives and ESO buildings — including the ALMA Residencia and the recently opened ESO Supernova Planetarium & Visitor Centre.
This product is available to download for free and is available to buy in the ESOshop.
Links
Contacts
Richard Hook
ESO Public Information Officer
Garching bei München, Germany
Tel: +49 89 3200 6655
Cell: +49 151 1537 3591
Email: pio@eso.org