Announcement
La Silla Solar Eclipse Webcast
7 June 2019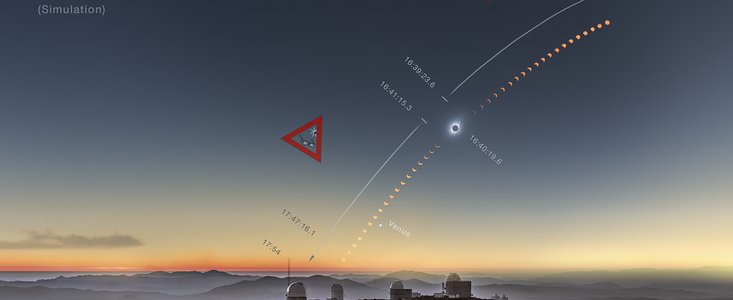 On 2 July, at 21:15 CEST, the European Southern Observatory (ESO) will provide a live webcast of the 2019 La Silla Total Solar Eclipse, should weather conditions be favourable and Internet broadband performs as expected. We invite entities in our Member States and beyond to consider incorporating the webcast into any public events that they are planning around the eclipse. We also invite members of the general public to simply enjoy the broadcast on our website. This is a unique opportunity to be part of the only total solar eclipse visible from an ESO Observatory for the next 212 years.
The webcast will be available in HD on ESO's website and on ESO's Youtube Channel, and will run from 21:15 CEST until the end of the eclipse at about 24:00, with totality beginning at 22:39 [1]. It will be a "raw" feed and will not include commentary but we will switch between sources regularly, featuring views from up to three small telescopes and also spectators at the Observatory.
If you are planning to incorporate the ESO broadcast during your eclipse event, please fill out the following form so that we can add your event on the eclipse website.
In case of bad weather, the webcast may be cancelled. The probability of a totally clear sky at La Silla during July is around 40%. There is around a 55% chance that the sky will be partially clear. There is a probability of more than 30% that there will be a thick cloud cover. The likelihood of a clear sky at La Silla is higher than in most other regions that will also experience the eclipse and slightly better than in the nearby Elqui Valley, but naturally, no guarantee of clear weather can be given.
Given the increase in the number of visitors to the region during the eclipse and its location in remote areas of the Atacama Desert, we have taken extra measures to ensure sufficient broadband connection but we cannot guarantee the conditions on the day.
An ESO press release will be issued after the conclusion of the eclipse.
Notes
[1]  Full Timeline of the Eclipse:
Event
02.07.2019

Local Time Chile CLT

Time UT

Time CEST

Start of webcast

15:15:00

19:15:00

21:15:00

Start of partial eclipse (C1)

15:23:51

19:23:51

21:23:51

Start of total eclipse (C2)

16:39:24

20:39:24

22:39:24

Maximum eclipse

16:40:20

20:40:20

22:40:20

End of total eclipse (C3)

16:41:15

20:41:15

22:41:15

End of partial eclipse (C4)

17:47:16

21:47:16

23:47:16

Sunset

17:54:00

21:54:00

23:54:00

End of webcast

18:00:00

22:00:00

24:00:00

Duration, totality

00:01:52

 
 
Contacts
Lars Lindberg Christensen
ESO Head of Outreach Initiatives
Garching bei München, Germany
Tel: +49 89 3200 6761
Cell: +49 173 38 72 621
Email: lars@eso.org