Announcement
De Zeeuw-Van Dishoeck Graduation Prize for Astronomy 2017 Awarded to Laura Driessen
30 November 2017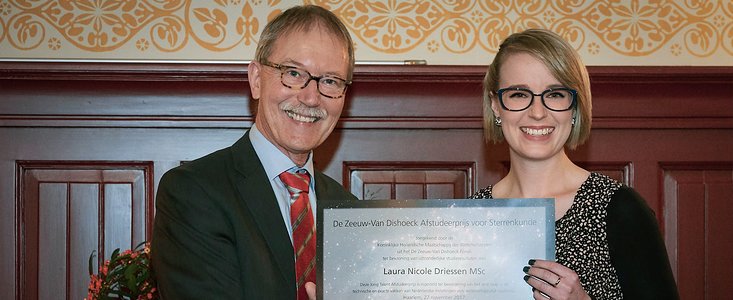 The De Zeeuw–Van Dishoeck Graduation Prize for Astronomy, established to encourage young talent in astronomy in the Netherlands, has been awarded to Laura Driessen of the University of Amsterdam. The award was presented at a ceremony in Haarlem on 27 November 2017.
The award, which consists of a certificate and a cash prize of 3000 euros, is awarded annually to the best master's thesis in the field of astronomy written by a student studying at a Dutch university. Laura Driessen received the prize for her master's thesis study on supernova remnants and pulsar wind nebulae. Laura is now studying for a PhD in Manchester, United Kingdom.
Laura was very surprised to hear that she had won the De Zeeuw-Van Dishoeck prize. "I really enjoyed working on this project, and received a lot of support from my supervisors Jason Hessels and Jacco Vink," she said. "This project showed how mysterious the Milky Way is and how much we still do not know yet. This kind of research into astronomical questions also requires advanced techniques and new ways of data processing, which have wider applications."
The prize fund was established by former ESO Director General Tim De Zeeuw and Ewine van Dishoeck, Professor of Theoretical Astronomy and Professor of Molecular Astrophysics respectively, at the University of Leiden. The prize was first awarded to Job Feldbrugge, in November 2014.
The prize is administered by the Royal Holland Society of Sciences and Humanities (KHMW), the oldest learned society in the Netherlands. Founded in 1752, KHMW aims to advance science and build a bridge between science and society.
Links
Contacts
Saskia van Manen, secretaris
Koninklijke Hollandsche Maatschappij der Wetenschappen
Haarlem, The Netherlands
Tel. +31 23 5321773
Email: secretaris@khmw.nl
Richard Hook
ESO Public Information Officer
Garching bei München, Germany
Tel: +49 89 3200 6655
Cell: +49 151 1537 3591
Email: rhook@eso.org